Grants, Research Opportunities and More at ORSP Open House Sept. 15
Sep. 8, 2017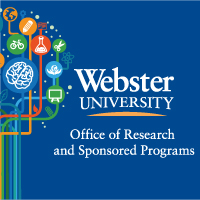 The Office of Research and Sponsored Programs will host an Open House, Friday, Sept. 15, on the fourth floor of Loretto Hall (rooms 423 - 431).
Drop in for a quick, calming break from the excitement of Homecoming to enjoy refreshments, meet ORSP staff, test drive a grant search engine or two, and chat about grant-seeking support and opportunities at Webster.
Guest will also get a firsthand scoop about recent news, upcoming events and more:
Webster's $2.7 million grant from the Department of Education, a grant project under the leadership of School of Education associate professors DJ Kaiser and Yin Lam Lee-Johnson.
Productivity Workshops with Katie Linder (RSVP to Carolyn Corley ccorley@webster.edu): Friday, Sept. 29: Planning a Productive Year (10 a.m.- 11:15 a.m.), Juggling Multiple Projects (1:15-2:30 p.m.)
...followed by the Provost's Reception Celebrating Research and Grants (also Sept. 29, 3-4 p.m.)
Mendeley Workshop: Learn about the reference manager and academic social network that can help you organize your research, collaborate with others online, and discover the latest research. Workshop occurs Wednesday, Oct. 11 in Library Conference room (12 p.m.-1 p.m.).
Apply by Monday, Sept. 25, for the Creative Inquiry in the Arts and Humanities Institute, which will be hosted at The Lincoln University, PA, Nov. 10-12, 2017.
For More Information
Visit us online anytime or contact us directly:
tags:  academics, webster today, office of research and sponsored programs, research, faculty, strategic plan,
News by Topic
Tag Categories
News by Topic
Tag Categories