From Admission to Graduation: Stroble in ACE's 'Higher Education Today' on student success, access initiatives
Jun. 28, 2017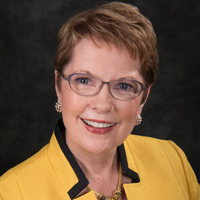 Webster University President Elizabeth (Beth) J. Stroble authored an article for ACE's Higher Education Today blog about the many initiatives Webster has implemented to fulfill the promise of higher education amid changing demographics for degree-seeking students.
The article is the featured cover story on the site this week.
"From Admission to Graduation: Fulfilling the Promise of Higher Education" elaborates on Webster's answers to national trends, such as regional partnerships, state-level initiatives like Reverse Transfer, and Webster's Transitions program.
"We know approximately 60 percent of incoming freshmen attending universities in the United States have permanent homes near the institution, as a university's proximity to "home" is increasingly becoming an important factor in college-selection decisions. While many independent colleges like Webster attract students from a broader geography, the median distance from home for an undergraduate at a private nonprofit university is 46 miles.
"We also know that the characteristics of college students are changing as quickly as the demographics of our communities."
Noting these changing demographic trends for students and the occupations that require college degrees, Stroble explains the level of activity required meet students' evolving needs.
"Successful degree attainment doesn't just happen on a stage with gowns and embossed pieces of paper. It's made out of one-on-one intensive academic counseling sessions, summer days spent acclimating to the rigor of postsecondary academic work, and through enrolling a diverse class of students and making it our priority to support them every step of the way to graduation day."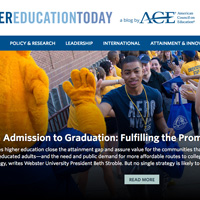 She cites data points from the National Center for Education Statistics and CollegeNet to illustrate the depth of the need, the strategies and partnerships, and the value these efforts create.
Community college partnerships, transfer-specific scholarships and the Transitions Academic Prep (TAP) program are also noted in efforts to "close the gap" in retention and attainment. 
Read the full article at Higher Education Today, a blog of the American Council on Education, here.
tags:  academics, home page, in the news, home page, president, webster life, webster today,
News by Topic
Tag Categories
News by Topic
Tag Categories