Summer 2017 Study Abroad Award, Apply by Feb. 28
Feb. 13, 2017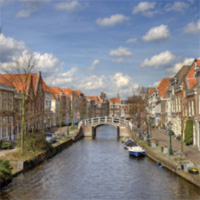 In support of the Institute of International Education's Generation Study Abroad initiative, Webster University is proud to offer a new award to summer 2017 study abroad participants. The University is offering this award with the aim of driving up the number of students who have the opportunity to gain international experience through academic study abroad this summer.
At Webster, we emphasize the importance of global awareness and believe that a study abroad experience enhances a student's global outlook and overall education.
Cost is one of the main barriers that keeps students from participating on a study abroad program, especially during the summer when other funding is not readily available. We hope this award, which will be applied directly to the cost of tuition, combined with the Webster World Traveler Program (WWTP) round-trip airline ticket will encourage students to take advantage of our worldwide network of campuses this summer. Full award details are listed below.
Summer 2017 Study Abroad Award             
New for Summer 2017 only, eligible students who apply will be granted the Summer 2017 Study Abroad Award which is applied directly to the student's account and covers 20 percent of the summer tuition. Eligible students must submit a completed application by the application deadline of Feb. 28, 2017. Please see specific eligibility requirements below. Programs in London and Florence are excluded.
Undergraduate Students
Earned at least 15 credit hours at Webster University
Good academic standing (2.0 GPA)
Good financial and social standing
Graduate Students
Earned at least 9 credit hours at Webster University
Good academic standing (3.0 GPA)
Good financial and social standing
The Office of Study Abroad promotes Webster's network of international campuses as well as the opportunities with its partners. Information on the study abroad opportunities is available  at webster.edu/study-abroad.
Applying to study abroad is not complicated and the Office of Study Abroad is here to guide students through the process. The office is located at Sverdrup 207 and the Global Exchange located at Sverdrup 107 has an array of resources to help students consider their study abroad options. Students may also write to worldview@webster.edu.
Everyone that touches a student may have a positive impact on the student's desire to expand his/her horizons by studying abroad.
tags:  academics, global, webster today, study abroad, students,
News by Topic
Tag Categories
News by Topic
Tag Categories