Summer 2017 Study Abroad Application Cycle Ends Feb. 28
Jan. 30, 2017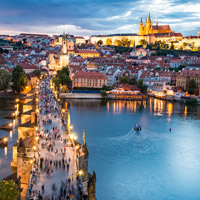 Students wanting to study abroad in Summer 2017 must apply before Feb. 28, 2017.
Webster University has committed to doubling the number of students that study abroad by 2020. This is a great challenge and everyone at Webster is key in the efforts to achieve that goal.
"We must ensure that this generation and future generations of the U.S. workforce possess knowledge of other countries and cultures and are competent in languages other than English. It is more important now than ever for Americans to gain global competency skills so that they can succeed in the global marketplace."
– Generation Study Abroad. 
Generation Study Abroad is a five-year initiative of the Institute of International Education (IIE) to mobilize resources with the goal of doubling the number of U.S. students studying abroad by the end of the decade.
The Office of Study Abroad promotes Webster's network of international campuses as well as the opportunities with its partners. Click here for more information on the study abroad opportunities. Everyone that who interacts with students has an opportunity to positively impact their desire to expand their horizons. 
How to Apply
Applying to study abroad is simple, and the Office of Study Abroad helps guide students through the process. The office is located at Sverdrup 207 and the Global Exchange located at Sverdrup 107 has an array of resources to help students consider their study abroad options.  Students may also write to worldview@webster.edu.
tags:  academics, students, global, study abroad, webster today,
News by Topic
Tag Categories
News by Topic
Tag Categories