Department of Music's 'ThompsonTalks' Showcases Variety of Speakers
Sep. 18, 2017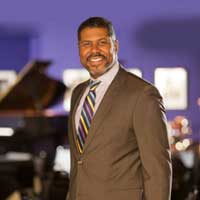 The Department of Music inaugurated another year of ThompsonTalks with five guest speakers in the last two weeks. ThompsonTalks are named for the location of most talks: Thompson Music Building, built in 1910, and on the National Register of Historic Places.
"Our ThompsonTalks seminar series is designed to present to music students people who are not necessarily doing now what they thought they'd be doing at age 18," said Jeffrey Carter, chair of the Department of Music in Webster's Leigh Gerdine College of Fine Arts.
"Throughout the course of the year we host educators, entrepreneurs, community musicians, and artists in allied professions—all in hopes of broadening horizons and presenting a much wider world of performing arts to our music majors. In addition to this wide roster of artists, we kicked off the year with a musician's health and safety briefing from faculty at Washington University School of Medicine."
Guests have included:
Tali Allen, director of Education at Stages STL
Gene Dobbs Bradford, executive director of Jazz STL and Jazz at the Bistro
Suzanne Palmer, music educator in the Normandy school district
Andy Waggoner, community musician with a large suburban church and community choirs on both sides of the Mississippi River
For more details regarding ThompsonTalks, please visit The Department of Music's performance calendar.
tags:  academics, department of music, college of fine arts, thompsontalks, webster life, webster today,
News by Topic
Tag Categories
News by Topic
Tag Categories