USAID Scholar from Indonesia Furthers Education at Webster
Oct. 19, 2017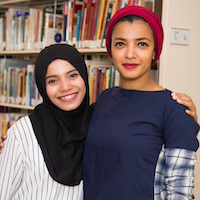 (ST. LOUIS) - Lydia Apriliani stayed close to home for her undergraduate degree. Her graduate degree, on the other hand, has taken her to the other side of the world.

Apriliani, a native of Indonesia is one of six honorable U.S. Agency International Development (USAID) scholars who selected the Webster University's home campus to further her education.  The other five scholars are from Egypt. The highly competitive USAID Scholarship Program, which was founded by President John F. Kennedy in 1961, awards students of distinction with an enriching cultural and educational experience. This scholarship is similar to the Fulbright Program. 
Apriliani, 24, is from Semarang, Central Java Indonesia. She is seeking her master's in Business Administration from the George Herbert Walker School of Business and Technology. She has a bachelor's degree in Management with an emphasis in Marketing Management from Diponegoro University. She also worked for her alma mater as an assistant for the Dean's Office, documenting student success. "I believe education and career readiness is important for youth advancement in my country," she said. 
Apriliani's transition to America went pretty smooth for her, she said. Her host family embraced her arrival and helped her navigate the region. She is roommates with a Fulbright Scholar, Mohammad Rafi Cena, and they share similar living experiences together. In St. Louis, she visited the Magic House and attended the Festival of Nations, and plans to further explore the city with trips to Forest Park and the Missouri Botanical Gardens.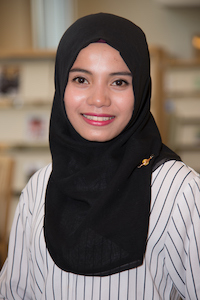 Although she has made many friends here, she misses her family dearly, she said, adding that she uses the WhatsApp program to communicate with her family. "It's hard to talk to my family sometimes with 12-hour time difference," she said. Apriliani comes from a very close-knit family that does everything together. In contrast, she has learned that citizens of the U.S. can be more individualistic. Still, she added, the people of America are friendly and are quick to help her when she gets lost or needs assistance. 
Apriliani chose Webster University because she admires the diversity among the student body and thinks the campus has a lot to offer. She joined several clubs such as the Graduate Student Association, International Student Association and the yoga club. But the club she's most excited about is cooking club because she will be learning how to cook for the very first time. 
After completing her MBA program, she will return to Indonesia to do business consulting for startups and career counseling to give students direction after college graduation.
tags:  academics, global, school of business and technology, webster life, webster today,
News by Topic
Tag Categories
News by Topic
Tag Categories