Webster Advising Day and NACADA in St. Louis
Oct. 17, 2017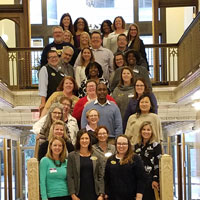 Over 30 Webster colleagues gathered in St. Louis for Webster Advising Day, a professional development opportunity focused on bringing together Webster colleagues from around the network to discuss, learn, and promote high standards in academic advising.
Advising Day was held at the Gateway campus with a welcome provided by Vice Provost Nancy Hellurud, whose remarks highlighted the importance of academic advising and its impact on student success, retention, persistence, and graduation. Concurrent sessions included opportunities to explore concepts related to the Global Citizenship Program, Becoming a CARS Ninja, All Things MBA, Study Abroad, The Undergraduate Advisor's Toolkit, Understanding Webnet+, Working with Webster Military Students, and more.
The day concluded with a networking reception for attendees. Following Webster Advising Day, Webster colleagues continued their professional development journey by attending the Global Community for Academic Advising Annual Conference (NACADA) which hosted over 3200 participants from around the world at America's Center, Wednesday, Oct. 11 through Saturday, Oct. 14.
Thanks to colleagues from the following campuses for coming to St. Louis for Advising Day 2017 and NACADA (left to right, as listed above in the extended campus colleagues photo):
Mark Shannon, Little Rock Metro and Little Rock Air Force Base
Sharon Phillips, Jacksonville Metro
Jenny Christopher, Fort Leavenworth
Lisa Maier, Jacksonville Naval Air Station
Jennifer Ord, Scott Air Force Base
Amanda Callendrier, Geneva
Renee Wilcox, Los Angeles Air Force Base
David Handrahan, Luke Air Force Base (not pictured)
tags:  academics, advising, webster life, webster today,
News by Topic
Tag Categories
News by Topic
Tag Categories