Webster Leadership Advocate for Student Aid, Develop Partnership in D.C.
May. 2, 2017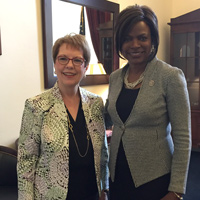 Webster University President Beth Stroble, Provost, Senior Vice President and COO Julian Schuster, and Associate Vice President for Government Relations and Sponsored Programs Carolyn Corley, traveled to Washington, D.C. last week to advocate for student financial aid and advance Webster relationships with U.S. and international partners. 
In a meeting with Innovation, Technology and Science officers at the U.S. Embassy of the Kingdom of the Netherlands, the Webster group learned about Dutch efforts to promote entrepreneurship and discussed Webster's role including the Women Entrepreneur Development seminars being offered this spring at the Leiden campus.
International education was the focus in a meeting at the State Department on Thursday, April 27, with members of the Office of Global Educational Programs. The group discussed ideas for increasing collaboration between Webster and the State Department's Education USA and new Office of Study Abroad to achieve our shared goal of increasing educational exchanges around the globe.
There was an introductory visit at the office of Sen. Boozman of Arkansas. The senator's Little Rock office has a Webster alumni connection with Webster's local campus there, making the visit an opportunity to apprise the Senator's staff of Webster's long history in the state. Webster's Little Rock Air Force Base location was established in 1976, and there are multiple Webster campuses across Arkansas. The group was joined by Sean Coleman, associate vice president for Military Campuses and Government Programs who described Webster's history of serving the military.
Meetings with Missouri Sens. Blunt and McCaskill, and Reps. Clay and Wagner, focused mainly on student financial aid. The president and provost advocated for protecting Pell grants and for the reinstitution of year-round Pell, providing detail to illustrate the vital importance of these programs for Webster students. They also shared their concerns about moves to relax the regulation of private sector student loan servicers. The group inquired about the prospects for Reauthorization of the Higher Education Act which could have implications for a range of issues affecting students and institutions. The consensus was that the prospects for passage this year are slim.
The trip ended with a congratulatory visit with Rep. Valdez (Val) Demings, a 1990 graduate of the Orlando campus. Demings, honored in 2009 as a Notable Alum, spent 27 years in the Orlando Police Department rising to become the city's first female Chief of Police. She was elected to Congress in November 2016, from Florida's 10th Congressional District which includes Webster's Orlando campus.
tags:  academics, alumni, global, president, provost, financial aid, leiden, study abroad, office of research and sponsored programs, webster life, webster today,
News by Topic
Tag Categories
News by Topic
Tag Categories