Academic Program Review and Prioritization
Oct. 12, 2018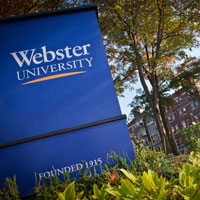 Five years ago, we completed a comprehensive Academic Program Review and Prioritization initiative to ensure we were continuously improving and strengthening our academic offerings. Because this was the first systematic Program Review at Webster, the scope of this project was large and included gathering baseline data on all undergraduate and graduate degrees and majors. 
As noted in the announcement of the initiative at that time, new programs had been subject to analyses of market, enrollment and financial expectations, and resource needs at their launch. However, we were not systematically circling back to review new programs following their launch, and existing programs did not benefit from review to encourage continued improvement and strengthening.
Following the Academic Program Review and Prioritization initiative, several programs – with support and guidance from deans – undertook steps to revise curriculum to respond to changes in the discipline and market demand, achieve and maintain specialized accreditations, combine and/or teach out low-enrolled programs, and propose strategic faculty hires – all to ensure the highest quality in our academic offerings. We reported these accomplishments to the Higher Learning Commission (HLC) in the Assurance Argument submitted early this year, in advance of the comprehensive visit in March. The peer reviewers reviewed this progress, noted that we had the pieces in place for systematic review, and identified places where models of program review exist at Webster, including in the Global Citizenship Program (GCP) and in programs with specialized accreditation. The Final Report of our HLC visit, as you know, reaffirms our accreditation to 2027-28 with two interim monitoring reports, one of which is focused on academic program review. 
This year, we will bring Academic Program Review and Prioritization back to a university-wide level. Establishing a more structured process will ensure that the good work of programs that are engaging in continuous improvement is recognized and that all programs are held to the same expectations for review and action.  
Shortly, in collaboration with the Faculty Senate and Faculty Senate President, an Academic Program Review Committee will be formed, and a process for establishing a stronger, university-wide review of academic programs will be created. The Academic Program Review Committee will include faculty and administrators, with Faculty Senate appointing some of the members.  
The Academic Program Review Committee will work in two phases. First, the Committee will review the small programs identified by the Implementation Team on Small Program Sustainability. The Committee will establish procedures and criteria for conducting the small program reviews, taking into account the recommendations of the Small Program Sustainability Implementation Team. Second, based on the implementation teams' recommendations and the Committee's experience reviewing small programs, the Committee will then establish the procedures and criteria for reviewing all academic programs on a regular basis.
The Committee will also recommend enhancements to the procedures and criteria for future reviews and suggest other best practices for academic program review.
Under our Academic Program Review process, all academic programs will be reviewed once each five years, with faculty and deans determining the rotation within their school/college. Program faculty will conduct self-studies and propose actions, deans will provide input and comments, and the Committee will make recommendations on next steps. Additional details will be announced shortly, once the Committee membership has been established. 
I appreciate the good work of colleagues who have moved forward principles of strengthening academic programs by serving on an implementation team, successfully launching new programs, obtaining and maintaining specialized accreditations, and revising and enhancing curriculum to ensure students have the best educational experience we can provide. Thank you for your commitment, and I look forward to working with you to continue to strengthen and improve our academic programs.
Julian Schuster
Provost, Senior Vice President and Chief Operating Officer 
tags:  academics, employee news, webster today, academic affairs, provost, faculty,
News by Topic
Tag Categories
News by Topic
Tag Categories