Communications Students Engage with Schools, Incubator in Gorlok Speaker Series
Apr. 2, 2018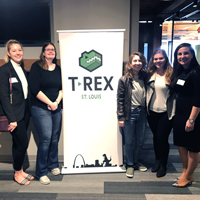 Students from the Webster University School of Communications spent the morning of March 28 judging LaSalle Springs Middle School students' media project presentations at the downtown T-Rex business incubator.
Senior School of Communications students Amy Ostresh, Maddy Bandowski, Erin Dean, Laura Schertz and Associate Dean Elza Ibroscheva attended the event and offered valuable feedback alongside other communication experts to over 20 eighth-grade students on their project ideas, focusing on solving media-related social problems.
The students' project ideas ranged from limiting screen time, promoting healthy eating through media, gender stereotypes and video games and violence. Students offered their analysis of the media problem, research they have conducted and suggested solutions through media campaign pieces.
"I was blown away by Rockwood School District 8th grade students," said Erin Dean, Webster senior in film, television and video production and manager of the student production house Idea Tree. "Their media projects were so impressive and I'm happy they are taking advantage of the creative course they're in."
"One project that stood out to me was by student Pene, who did a website, blog, and social media page for her topic of screen time," Dean said. "Everything was so cohesive and had great content."
"This event was a great opportunity for our students to experience the role of media professionals, sharing their knowledge as experts and not just as students," said Ibroscheva. "It was great to see how they interacted with the middle schoolers and was exciting to feel the creative energy in the room."
The opportunity for Webster University students and faculty to engage with local schools was made possible by the School of Communications Gorlok Speaker Series, which offers visits and lectures by expert faculty members to classes, focusing on important aspects of media. You can learn more about the Gorlok Speaker Series by sending an email to soc_success@webster.edu.
tags:  academics, faculty, school of communications, webster life, webster today,
News by Topic
Tag Categories
News by Topic
Tag Categories