International Relation Student Wins Contest for Global Solutions
Nov. 16, 2018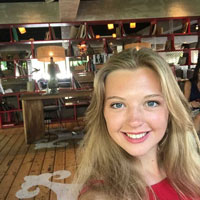 Hannah Emerson, a native of Kansas City, has built a decorated resume during her time at Webster University. Emerson is set to graduate in May 2021 with not only her bachelor's degree in International Relations but also her master's through the Combined Degree Program offered at Webster.
Her accomplishments include becoming an active member of the Webster Groves campus through participating in many clubs and organizations, obtaining multiple internships, studying abroad in Thailand, and most recently, Emerson won a Citizens for Global Solutions contest which sent her to the organization's national conference in Washington D.C., Citizens for Global Solutions Annual Board Meeting, Nov. 9-12.
Citizens for Global Solutions is a national organization with a vision for a peaceful, free, just and sustainable world community. The contest that Emerson won required an essay on a topic that depicted how Citizens for Global Solutions can help solve global problems. Her topic, "Urbanization: A Global Problem with a Global Smart City Solution," was divided into two parts. In the first part, Emerson highlighted her international experience as well as her experience working on Smart City policies in the Kansas City Mayor's Office and for the City of St. Louis.
The second part of the essay was dedicated to describing a global issue and how it could be solved. Emerson discussed the issue of urbanization and how "Smart City policies could be adapted and used to help alleviate the problems that come with urbanization, which also are the issues we as a global community face at the local level."
Over the course of the conference, several speakers were highlighted. These included those working for the U.S. Institute for Peace, United Nations 2020, and leaders of the United Nations Constitutional Research Organization. During her time at the conference, she aided in project planning for the 2019 conference.
Emerson had many positive things to say about the conference. She noted that she was excited to learn more about the running of a non-profit and political action committee. Emerson says how her passion for international relations started at a young age and led to her study abroad in Germany while she was in high school and eventually the International Relations Combined Degree Program at Webster.
Emerson went on to praise the faculty and staff who have helped educate and guide her during her time at Webster. "I am very grateful for the dedication and compassion they have shown me - meeting with me outside of class to discuss and expand on course materials, helping me to initiate my crazy plans for studying abroad multiple times while keeping my graduation date the same, and helping to connect me with scholarships, opportunities, and advisers both in and outside of the university."
After graduation in 2021, Emerson plans to either pursue her Ph.D. or another master's program before working in a diplomatic capacity for either the United Nations, European Union, or possibly the Foreign Service. Looking long-term, Emerson would like to start her own NGO that is focused on improving the refugee resettlement process globally. 
tags:  academics, college of arts and sciences, webster life, home page, webster today, international relations, students,
News by Topic
Tag Categories
News by Topic
Tag Categories