Webster Students Present at 'HateBrakers in History' Research Conference
Dec. 5, 2018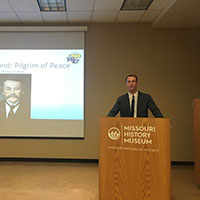 Almost 50 people attended the 'HateBrakers in History' undergraduate research conference at the Missouri History Museum this past Sunday, where six Webster students (and one SIUE student) presented original papers on historical figures who fought against hatred, xenophobia, and oppression.
The conference was organized by professor Warren Rosenblum, history, politics & international relations department chair, in conjunction with the non-profit organization New Conscience Inc. and the Missouri Historical Society. HateBrakers is an innovation of New Conscience, Inc. and aims to reduce hate in the St. Louis community and around the country.
The presentations explored the lives and legacies of people who sought to defuse hatred, prevent violence, and heal the wounds of racial, ethnic, and social conflict. Susan Margolis Balk presented as the keynote speaker. She is the president and founder of Hatebrakers/New Conscience, Inc. 
The conference was organized by Warren Rosenblum, professor of history and chair of the History, Politics, and International Relations Department in Webster's College of Arts & Sciences, in conjunction with the Missouri History Museum and Hatebrakers.
Panelists included:
Panel 1. Visions of a Better World
Blake Browning, The Man Who Never Gave Up: William Wilberforce
Michael Guthrie, Aristide Briand - Pilgrim of Peace
Panel 2. Courage in the Face of Evil
Katie Lade, Dissenting in Nazi Germany: The Story of Bishop von Galen
Kynan Broyles, Making the Choice: Chiune Sugihara, Japanese Holocaust Rescuer
Panel 3. Hatebrakers in our Time
Michael Limmer (SIUE), "Hatebrakers of the High Street Labor Museum: Italian Women and 'Cultural Continuity'"
Hannah Emerson, "PRO-ASYL: The Champions for Asylum Seeking Rights"
Lexie Salamone, "Hans Blix: Nuke Hunter"
tags:  academics, college of arts and sciences, webster life, webster today, students, faculty, history, politics, international relations,
News by Topic
Tag Categories
News by Topic
Tag Categories