Messing Award: Carter to Visit Vienna to Strengthen, Internationalize Music Curriculum
Feb. 28, 2018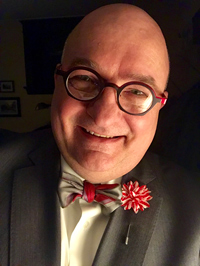 The 2018 recipient of the Wilma and Roswell Messing Jr. Faculty Award is Jeff Carter, professor and chair in the Department of Music in the Leigh Gerdine College of Fine Arts.
Since 1977, the Wilma and Roswell Messing Jr. Faculty Award has been presented to a full-time faculty member for a summer activity that strengthens his or her curriculum and that improves the teaching/learning experience.
The award provides the resources for a Webster University faculty member to complete international research projects and infuse the results of his or her studies into his or her curriculum and teaching.
Faculty proposals are peer-reviewed by an appointed University committee.
Further Developing Music Curriculum, Study in Vienna
Carter will spend three weeks in Vienna in the summer of 2018. His trip will focus on the development and strengthening of the music curriculum for both Webster music majors and WINS music majors. He will spend his time building relationships, surveying locations appropriate for music-related teaching and performing, working and planning with Webster Vienna leadership, developing possible partnerships with local institutions, and making specific curricular and programmatic plans for increased music study at Webster Vienna.
Carter's trip will also help imbed international music study more deeply in the Department of Music and support the department's mission. In part, the Department of Music mission statement calls for educational programs that join theory and practice, provide an international perspective, encourage creativity and scholarship, and foster a lifelong desire to learn and actively serve communities and the world, instilling in students a respect for diversity and an understanding of their own and others' values.
tags:  academics, college of fine arts, faculty, global, home page, department of music, provost, webster life, webster today,
News by Topic
Tag Categories
News by Topic
Tag Categories