Webster University Recognized by Phi Theta Kappa Society for Support Offered to Transfer Students
Feb. 6, 2018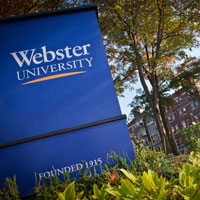 Webster University was named to the Phi Theta Kappa Honor Society Transfer Honor Roll for its work in helping students transfer from community colleges into baccalaureate programs. This is the second year in a row that Webster has been named to the prestigious list. The recognition was announced Friday. Webster is one of only 112 institutions, one of four universities in Missouri, and one of two institutions in the St. Louis area to make the list.
Last November, new federal data showed that program completion rates for transfer students at Webster University ranked 2nd among its Missouri competitors, 2nd among all four-year institutions in the St. Louis region, and 11th among its U.S. News & World Report competitors for full-time transfer students.
"Webster University has intentional programs to assist students in making the transition from community college to the university, and the national results show that we have one of the strongest completion rates for transfer students in the country as a result," said Webster University President Elizabeth (Beth) J. Stroble. "The accomplishments of these transfer students reflect their talent and dedication paired with the commitment of exceptional Webster faculty and staff. We are proud to be recognized for this achievement." 
Phi Theta Kappa asked universities to apply for the honor and then scored each university according to the application data. Scores were determined based on institutional partnerships, community college collaboration, pre- and post-transfer institutional support, data tracking and transfer pathway innovations. 
Among the factors considered in placing Webster University on the list were the number of support programs offered to community college transfer students. These included numerous institutional partnerships and community college collaborations and institutional support offered to students before and after they transferred.  Webster's application for the Honor Roll  also included recommendations from a community college partner and a transfer student.
"Households with financial need increasingly have been choosing to send their children to community colleges first as a cost-saving measure, with the hope they could then enter into a four-year program for a limited time and earn a bachelor's degree," said Julian Schuster, the provost, senior vice president and chief operating officer of Webster University. "The community college has traditionally been a choice for many individuals as they provide an excellent yet affordable education and a pursuit of an associate's degree."
Programs available to transfer students considering Webster University include:
Newly developed 2+2 agreements with St. Louis Community College, creating seven transfer pathways for STLCC associate degree graduates to earn a bachelor's degree at Webster in Computer Science- Cybersecurity, Management, or Entrepreneurship. 
A recent National Science Foundation grant for $647,669 over five years to help recruit and retain community college students who transfer to Webster to complete degrees in the biological sciences. The money will be used to create scholarships, academic assistance programs for struggling students and career counseling for students who are about to graduate.
A dual admission agreement with Southwestern Illinois College that makes it possible for students to be jointly admitted to SWIC and Webster University, giving students access to resources at both institutions and to help ensure a seamless transfer from the associate to baccalaureate degree.
A Phi Theta Kappa Distinguished Achievement Full-tuition scholarship is awarded each year to an incoming transfer student and Phi Theta Kappa member who shows high academic achievement and leadership experience.
A Phi Theta Kappa scholarship of $1000 is awarded to all full-time transfer students to Webster with proof of PTK membership
Numerous orientation events for transfer students to help with the transition.
Phi Theta Kappa is one of the nation's pre-eminent organizations that is focused on recognizing the academic achievements and supporting the scholarship of community college students. It was founded in Missouri in 1918 but has grown into an international organization with chapters in 11 countries and the Virgin Islands. In March, Phi Theta Kappa will host its regional convention in Branson, Missouri, and in April it will hosts its international convention in Kansas City. Webster University will sponsor both events.
For more information about the honor roll, or to see a complete list of all institutions named, visit
https://www.ptk.org/Scholarships/TransferHonorRoll.aspx.
To learn more about Webster University's Transfer Students Program, visit http://www.webster.edu/admissions/undergraduate/transfer.html. 
tags:  academics, home page, president, provost, webster today,
News by Topic
Tag Categories
News by Topic
Tag Categories