Apply for a Summer/Fall 2018 Provost's Student/Faculty Collaborative Research Grant
Mar. 27, 2018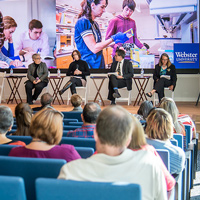 Applications are now open for the Summer/Fall 2018 Provost's Student/Faculty Collaborative Research Grant Program.
The program provides up to $500 to current undergraduate students across Webster's global network who are conducting research under the direction of a faculty member, which will result in a work product.  
Webster University defines research broadly and includes artistic, scholarly, and other research activities fitting our variety of disciplines and majors. 
To date, the Provost's Student/Faculty Collaborative Research Grant has provided research awards to more than 100 undergraduate students. 
Examples of projects/work products may include, but are not limited to: a paper, a poster presented at a professional conference, an article or other publication, laboratory research, field work, a performance, a display, an exhibition of original works or collections, or other project appropriate to the discipline.
How to Apply for a Grant
More information can be found information can be found here. 
Questions may be addressed to Rita Smith, director of Academic Resources & Planning by email or (314) 246-6914.
The extended application deadline is Wednesday, May 2.
Applications can be found here. 
tags:  academics, students, faculty, provost, home page, research, webster life, strategic plan, webster today,
News by Topic
Tag Categories
News by Topic
Tag Categories