Psychology Student Completes Summer 2018 Competitive Research Experience
Sep. 12, 2018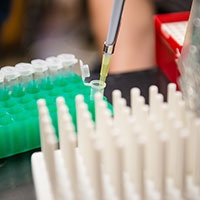 Webster University student Kathleen Lamb was one of nine students selected for the competitive eight-week Washington University Summer Research Experience in Aging and Neurological Diseases Program.
This highly competitive opportunity has students conduct research on neurological conditions and diseases that often interplay with the aging process: stroke, Parkinson's disease, and dementia. 
"Kathleen is smart, curious, dedicated and hard-working," said Amanda Kracen, assistant professor of psychology in Webster's College of Arts & Sciences. "I was delighted that she was interested in this summer research experience, and I am proud that she applied and was accepted to the highly competitive program."
Throughout the program, Lamb worked alongside her mentor, Brian Carpenter, associate professor, department of psychology, arts, and sciences of Washington University. Her work consisted of statistical analyses, scientific writing, data collection, and data management in Carpenter's Clinical Geropsychology Lab where she was involved with two different projects.
Furthering Research
The Verbal Naming Test (VNT), a cognitive assessment, was one of the projects Lamb focused her time on. Typically for the visually impaired, this assessment measures a person's ability to recognize and name common objects.
"The goal of the study is to validate the VNT and determine the average scores for different demographics so that it may be useful in a clinical setting to help asses for cognitive impairments," says Lamb. She noted that she is continuing with this project into the academic year to obtain a more diverse sample clinical sample.
Lamb, who is expected to graduate in Dec. 2019 with a degree in Psychology, also helped start the Life Purpose Project. This project entailed Lamb looking at those who have been diagnosed with a cognitive impairment and how that affects their life purpose, goals, and outlook for their future. "With this study, I interviewed patients from the Memory Diagnostic Center, many of whom had dementia and Alzheimer's diagnoses."
Future Plans
Lamb said interacting with research participants and hearing about their experiences was a highlight of her experience.
"I've always been interested in developmental psychology, so when I heard about this summer program I knew I wanted to apply," she said. "We have an aging population with more older adults and less young people than ever before, there is a great need for geropsychology and there is so much research to be done."
After graduation, Lamb seeks to enter a Clinical Psychology Ph.D. program where she can continue researching developmental psychology.
Research Growth at Webster
Several initiatives at Webster University have increased research opportunities for students and faculty in recent years. The Interdisciplinary Science Building (ISB) building, which opened fall 2017, and the Student/Faculty Collaborative Research Grant Program are providing greater opportunities for collaborative and faculty-guided research. The Faculty Research Grant program also funds faculty research and professional development activities in a range of research ares.
Webster's Office of Research and Sponsored Programs (ORSP) was established through a grant from the National Institutes of Health's (NIH) Biomedical/Biobehavioral Research Administration Development (BRAD) program to build research administration capacity and oversight that provides the basis for this improved research infrastructure. 
tags:  academics, college of arts and sciences, webster today, research, students, faculty,
News by Topic
Tag Categories
News by Topic
Tag Categories