Student Success Portal: January training dates and new, updated resources
Jan. 8, 2018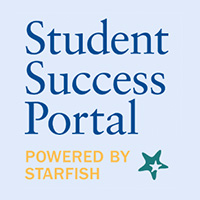 The Student Success Portal, powered by Starfish, launched in Fall 2017 and is being used to promote student success by aiding in student advising, facilitating communication between faculty and students, and helping students access Webster resources.
To learn more about the Student Success Portal, visit www.webster.edu/success and/or attend a drop-in training session in the Faculty Development Center (Emerson Library Suite 420) between 12-2 p.m. on Tuesday, Jan. 9; Tuesday, Jan. 16; or Tuesday, Jan. 23.
New resources and frequently asked questions are regularly added to the website, and the following additions or updates may be especially helpful.
Resources
How do I make notes about how I've followed up with students?
Documenting Student Interactions is available on the website on both the For Faculty and For Advisors & Staff pages. This document covers how to make notes, appointment outcomes, and SpeedNotes and offers practical advice on information to include or leave out when making student notes.
How do I clear a flag after I have followed up with a student?
Managing Flags is available on the website on both the For Faculty and For Advisors & Staff pages as well. This document includes information about managing flags, and page 3 explains how to clear a flag once you have addressed an issue.
What should I do if my colleague is on leave and I am temporarily assigned the person's advisees?
Filter by Primary Advisor is available on the website on the For Faculty page. These step-by-step instructions walk you through the process of searching for your colleague's advisees in order to view the students' tracking items and take action.
I'd like to use the Attendance tool in the Student Success Portal. How do I do use it, and will my students be able to see the information that I input?
The How to Take Attendance video provides an introduction to using the Attendance tool and is available on the website on both the For Faculty and For Advisors & Staff pages. Your students will be able to view their own attendance data. Please note, tracking attendance in the Student Success Portal is not required, nor does it replace the "goldenrod" sheet that faculty return to the Registrar's Office in the first two weeks of the term.
FAQs:
Why do I see activity for many students with whom I have no relationship (not a student in my class, not an advisee)?
Starfish is roles and relationships based. Some users may have one role (Instructor) while others may have multiple roles (Academic Advisor, General Advisor). Your role determines who you have access to in the Student Success Portal. On the Home screen, changes for students you can view will display. Since most users have an "all students" role, the result is the ability to see all recent changes in the system.
To see students to whom you may be assigned (caseloads, which are derived from information in CARS/CX, are available for the roles of Instructor, Academic Advisor, and Financial Aid Counselor), click on Students in your top blue bar. Then, move to the sub-tab for Tracking. You can use the drop-down menu for Connection to select your role, which may further filter your tracking items view.
Why do I see students who are not my advisees or are no longer my advisees in the Academic Advisor connection?
This list includes all students who are currently listed in CARS/CX with you as the primary advisor. If there are students listed who are not your advisees, you should talk to the team member in your office/school who assigns advisors as that information will have to be updated in CARS/CX. Once it is updated in CARS/CX, it will display correctly in the Student Success Portal the next day.
I just looked up a student, and he or she is not showing. Why?
It depends. If the student was previously enrolled at Webster but has been out for more than four years, he or she will not be visible in Student Success Portal until after reenrollment with the University. If the student is newly admitted to the University, it may take 24-48 hours after initially being visible in CARS/CX for the student record to pull into the Student Success Portal. If neither of these situations is the case, please email studentsuccess@webster.edu and include the student name and ID number so that we may investigate the issue.
When I try to access the Student Success Portal, I just get a blank white screen. What's going on?
It is likely a browser issue. The preferred browser is Chrome, and Firefox is another option. If you are a Safari user, please ensure you are using version 10.1.2 if you want to access the Student Success Portal via Safari.
I received the following error: HTTP Status 401 - Authentication Failed. What should I do?
This error is likely due to the system timing out (time-outs occur when the system has been idle for 20 minutes or more). Close the browser window, and log out of Connections if you still have an active Connections window. Close that window as well. Then, open a new window and log back in. Occasionally, you may receive this error despite having been actively working in the system. When that situation occurs, follow the same steps as above. While it may seem inconvenient to be timed out, this function is very important to ensure that all data is protected. If a user walks away from any machine, the timeout secures FERPA-protected information as a benefit, not a burden, of the system.
My appointments are not showing correctly in my calendar. How can I correct this issue?
Double check your time zones in both your Student Success Portal profile and your Office 365 calendar and ensure they match. If you are in the United States in Central Time, the Student Success Portal should show (GMT-06:00) Central Time, and Office 365 should show (UTC-06:00) Central America (US & Canada).
How can I change my view so that I don't see activity that I am not responsible for managing and/or that does not relate to me?
In your profile, change your Login Page from the default to the area of most interest/use to you—often Students-> My Students or Students -> Tracking. Then, set up your filters to default to your assigned advisees, your school, your service location, or a specific tracking item. Note: If you have not set up any office hours, in order to change your Login Page, you will first have to go to Home and deselect the option to show the Office Hours Wizard every time you log in.
I can't find my advisees in the Student Success Portal when I filter to find my current advisees, or I'm not listed as their advisor in their student folder. What should I do?
It is possible that your students have not been assigned an advisor within the Student Success Portal because your department has not yet updated this information in CARS/CX, from which the Student Success Portal pulls much of its information. If you pull up your students' "Student Folders" and see that they have no assigned advisor in the system, you should contact the team member in your office or school who assigns advisors and ask them to update CARS/CX with this information.
If you're interested in learning more, please visit the Student Success Portal website or attend a training session.
tags:  academics, faculty, webster life, webster today, starfish, student success portal, academic resource center, advising, students, strategic plan,
News by Topic
Tag Categories
News by Topic
Tag Categories