Short-Term, Faculty-Led Study Abroad Proposals for Spring, Summer 2019: Deadline May 4
Apr. 12, 2018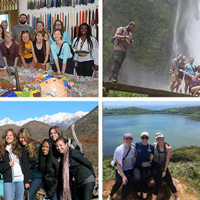 Members of the Webster faculty are invited to submit proposals for short-term, faculty-led study abroad courses for Spring or Summer 2019. Applications are open until the extended deadline of May 4, 2018. 
Short-term, faculty-led study abroad programs are credit bearing and have an embedded travel component that highlights and supports the course learning objectives. All programs must be led by a Webster faculty.
The format may include but is not limited to global hybrid format (an online course with travel component), condensed on-location courses, and other approved structures. The courses are typically less than six weeks of travel and may occur in any location around the world.
See some recent examples of such programs over Spring Break 2018 in this story.
To access the proposal form and for more detailed information visit: www.webster.edu/study-abroad/resources/faculty_resources.html
All questions should be directed to Hannah Verity, director of Global Program Development at 314.246.7627 or hannahverity72@webster.edu.
tags:  academics, faculty, global, home page, study abroad, strategic plan, webster today,
News by Topic
Tag Categories
News by Topic
Tag Categories