Webster Starts the Year with Impressive Incoming Class and Listings in Several National Rankings
Sep. 13, 2018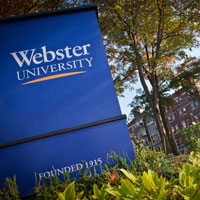 ST. LOUIS – Webster University started the 2018-2019 academic year with an impressive group of new students. During the first week of classes, nearly 500 full-time freshmen were joined by more than 260 full-time transfer students.
Among the students are 14 Presidential Scholars (Webster University's largest academic scholarship), seven Webster Academically Talented Transfer scholars (a National Science Foundation-funded scholarship for community college transfer students pursuing degrees in STEM-related fields), and 39 Phi Theta Kappa (PTK) students (community college transfer students receiving $1,000 to $10,000 academic scholarships from PTK). 
Overall, more than 97 percent of the freshman and nearly 80 percent of the transfer students are receiving financial assistance in the form of scholarships, grants or other types of aid. The entering class also includes students from eight countries besides the United States.
All these statistics about Webster University's newest undergraduate students demonstrate why Webster appeared on several lists in the U.S. News & World Report's 2019 "Best Colleges" report. Nationally, U.S. News & World Report recognized Webster for having one of the best "Study Abroad" programs in the country. Regionally, Webster also received "Best for Veterans" and "Best Value School" recognition. 
Overall, Webster University retained its position at 23rd place in the "Regional University – Midwest" category, which includes 165 institutions. Among Missouri institutions, Webster is one of only three in the top 25, and one of only two private, nonprofit institutions.
A regional institution is a college or university that focuses mostly on undergraduate and graduate degrees but offers few doctoral programs. A national institution offers a wide range of doctoral programs and focuses on research.
"Ranking in the top 25 of Midwest Regional Universities is a testament to our community's commitment and impact on Webster students' success," said Elizabeth (Beth) J. Stroble, president of Webster. "Our recognition for study abroad, best for vets, and best value reflect the persistence of Webster's core values in a time of dynamic change for higher education and the communities we serve. Assuring both access and success has always been important to Webster, and the new attention by U.S. News & World Report to outcomes and social mobility of graduates is welcome indeed."
This is the 11th time Webster was named to the "Study Abroad" national list, which was created in 2003. Only 69 schools received this recognition out of all 1,500 institutions reviewed in the national and regional categories.
Among the top 25 Regional – Midwest schools, Webster is listed 15th for "Economic Diversity," a category that names schools with the highest percentage of students who receive Pell Grants. Pell Grants are a federal program for students who come from households that earn less than the average income in the region where they live. 
Webster was named a "Best Value" school among Midwest institutions for its lower-than-average tuition rate, high financial assistance, and above average academics. For the sixth consecutive year, Webster also was recognized as a "Best College for Veterans" in the Midwest category for its programs that help veterans and active duty servicemembers earn a college degree.
The U.S. News & World Report Midwest category includes Ohio, Iowa, Indiana, Illinois, Michigan, Minnesota, Wisconsin, North and South Dakota, Kansas, Nebraska, and Missouri.
Other Midwest lists that name Webster include:
Faculty Resources – Webster is listed first among the 165 institutions in the Regional Universities-Midwest category. This is the third year Webster has topped the list. The category measures the institution's commitment to instruction. This composite variable includes the student/faculty ratio, faculty compensation, the percentage of faculty who are full-time, and other measures.
Campus Ethnic Diversity – Webster is in the top 50 for most diverse undergraduate student bodies among all Midwestern institutions. Nearly one-third of this year's incoming freshman and transfer class self-identify as minorities. Overall, nearly half of all Webster students (graduate and undergraduate) self-identify as an ethnic minority.
"The University continues to invest in overall academic resources and student experiences, and that is reflected in this year's U.S. News & World Report rankings," said Julian Schuster, provost, senior vice president and chief operating officer of Webster University. "Besides the many lists that name Webster, the rankings also reflect a five-percent jump in the graduation rate, demonstrating how we are continually seeking improvements for the benefit of our students."
Further Recognition: Diverse, Veteran-Friendly
Webster University appeared on three other national college rankings in the past month. The Wall Street Journal listed Webster University among the top 968 institutions in the country. U.S. Veterans' Magazine also listed Webster University on its ranking of "Top Veteran-Friendly Schools in the U.S." in its summer edition. Diverse Issues in Higher Education listed Webster for having one of the most diverse graduating classes of master's students in the country, the 27th year in a row that Webster was named to that list.
With its home campus in St. Louis, Missouri, USA, Webster University (www.webster.edu) comprises an action-oriented global network of faculty, staff, students and alumni who forge powerful bonds with each other and with their communities around the globe. Founded in 1915, Webster is a private non-profit university with nearly 14,000 students studying at campus locations in North America, Europe, Asia, and Africa and in a robust learning environment online. The university is committed to ensuring high-quality learning experiences that transform students for global citizenship and individual excellence.
tags:  academics, home page, president, provost, diversity and inclusion, military, webster today,
News by Topic
Tag Categories
News by Topic
Tag Categories