WalletHub Ranks Webster University Among the Best Schools in the Nation
Oct. 26, 2018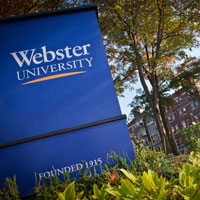 ST. LOUIS - Webster University was named a "top performing school at the lowest cost" by the financial services agency WalletHub this week. The University was ranked as the 190th best college in the nation and the seventh best in Missouri for students who are looking for the greatest rate of return on dollars spent on tuition. Among private institutions, Webster was ranked 128th nationally and fifth in the state.
"Webster has a long history of opening the doors of opportunity for our students.  Through the generosity of scholarship donors, funding from Pell Grants and other federal and state resources, and exemplary academic programs and student support, we create both access and success for students from a variety of backgrounds and experiences," said Webster University President Elizabeth (Beth) J. Stroble. "We are honored by this latest recognition of the value of a Webster degree for an economically diverse student body, those whose success strengthens the region through their careers and lives."
The financial service company reviewed 30 key measures of seven areas of interest: student selectivity, cost and financing, faculty resources, campus safety, campus experience, educational outcomes and career outcomes. WalletHub compared the metrics from 951 institutions of higher education to compile its rankings.
Data from the Department of Education's Integra dated Postsecondary Education Data System (IPEDS) show that at Webster:
About 33 percent of all undergraduates qualify for Pell Grants, a federal program reserved for students who have the greatest financial need.
About 75 percent of Webster undergraduate receive financial aid, with the average award being $12,787.

About 59 percent of Webster full-time undergraduates will finish a bachelor's degree, more than 4 percent higher than the national average.
About 57 percent of full-time Pell Grant recipients will earn a degree, about 13 percent higher than the national average.
About 77 percent of full-time undergraduate transfer students will complete a degree program, ranking Webster 2nd among its Missouri competitors, 2nd among all four-year institutions in the St. Louis region, and 6th among its U.S. News & World Report competitors for full-time transfer students. Nationally, the graduation rate for transfer students is about 63 percent.
More than 95 percent of Webster undergraduate students will pay their student loans, greater than the 88 percent national rate.
Webster University offers 221 distinct donor-sponsored scholarships, including 151 separate endowed scholarship funds and 70 other scholarship programs. These funds frequently provide multiple scholarships. The number of endowed scholarship funds has increased by 51 percent in the last six years.
Other notable programs that help students complete a program and save money include those coordinated with Webster's Academic Resource Center, an integrated support center geared for student achievement. The center offers academic counseling, tutoring, writing, and assistive technology support, along with services for students with disabilities and resources for veterans. As part of its effort to enhance student success, the Resource Center also created both the Transitions and the Transitions Academic Prep (TAP) programs, which helps students learn successful college behaviors and build a personalized roadmap to help them thrive. The University also offers a retention-calling program, a financial resource center, and English-language programs for Webster's international students.
The average salary of a Webster graduate with a bachelor's degree is $45,000 per year within five years after completing the undergraduate program, and $81,000 10 years after graduation, according to an annual survey by Payscale.com (https://www.payscale.com/research/US/School=Webster_University/Salary).
"The quality of education offered to students at Webster University have a strong, measurable track record of preparing students for their future careers and helping them achieve professional and academic success," said Julian Schuster, the provost, chief operating officer and senior vice president at Webster University. "An education is a transformational experience that numerous studies show leads to greater overall life satisfaction and happiness. This latest ranking indicates that our strong academics, talented faculty and dedicated staff prepare students for a bright future."
The full WalletHub rankings and methodology can be found online at https://wallethub.com/edu/college-rankings/40750/#main-findings.
tags:  academics, home page, president, provost, webster today,
News by Topic
Tag Categories
News by Topic
Tag Categories