ARC Programs Receive Three-Year Recertification
Jul. 24, 2019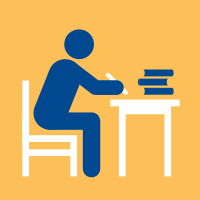 The Tutoring Program and Writing Center, two programs in the Academic Resource Center (ARC), have received recertification of the College Reading and Learning Association (CRLA) International Tutor Training Program Certification (ITTPC).
Work for the recertification was completed by Carolyn I. Brown, assistant director, and Kristin Cobos, Writing and Online Writing Center coordinator. At the time, Brown was overseeing the Tutoring Program in addition to her other duties as assistant director.
Recertification Requirements
As part of the recertification requirements, Brown and Cobos conducted training for the ARC's student tutors and writing coaches in face-to-face and online sessions during the Spring 2019 semester. Training topics included Title IX, tutor and writing coach responsibilities, active listening, the code of ethics, effective communication skills, navigating difficult tutoring and writing coach situations, learning styles, study skills, working with students with disabilities, and working with ESL students. Written group discussions further explored the topics presented
"These programs were first certified in 2017, and they have continued to improve and expand since that time," said Erica Ellard, director of the Academic Resource Center. "We now have a three-year recertification and can continue to focus on providing the best possible training and professional development to our student tutors and writing coaches so that they can provide students with the best experience and support possible."
Tutoring Resources
For more information about the Tutoring Program, including the added resource of NetTutor, a professional online tutoring company, contact Cherie Wyatt, Tutoring Program Coordinator, at cheriewyatt41@webster.edu or 314-246-7107.
Writing Center Resources
For more information about the Writing Center and/or Online Writing Center, contact Cobos at kristincobos14@webster.edu or 314-245-8685.
tags:  academics, employee news, faculty, title ix, webster life, webster today, academic resource center, academic advising, academic affairs,
News by Topic
Tag Categories
News by Topic
Tag Categories