Academic Resource Center: Program Goal Assessment
May. 1, 2019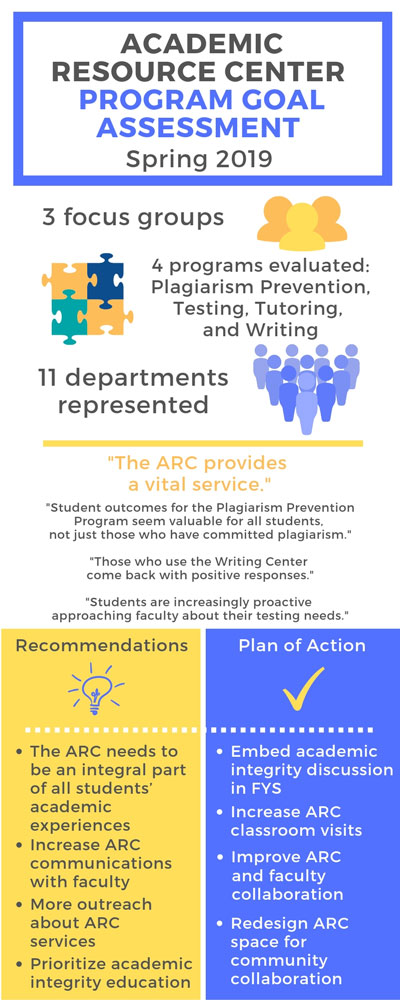 Assessment is an important process for learning centers and particularly for Webster's Academic Resource Center (ARC). This year, the program goals and student learning outcomes (SLOs) for the Plagiarism Prevention Program (PPP), the Testing Center, the Tutoring Program, and the Writing Center were assessed. Faculty and staff focus groups provided this assessment in Spring 2019 and included representation from 11 different departments.
Faculty and staff were asked whether the ARC is meeting its SLOs in alignment with its mission, and responses were largely positive and included some opportunities for improvement. The overwhelming feedback was that ARC services need to be an integral part of students' academic experiences at Webster. Suggestions included embedding more ARC resources and materials into the classroom for both students and instructors; offering more tutoring and writing coaching satellite locations; and changing the student and faculty perception that the ARC is a "fix-it shop" or a "punishment" center.
To achieve progress in these areas, the ARC team needs you! Please, invite team members to your department, college, and school meetings; schedule time with ARC team members to discuss the various programs and services the ARC offers and how to integrate them into your classrooms; schedule team members, tutors, and writing coaches to visit your classes and work in your buildings; and find ways to get your students to the ARC—through tours, required assignments, extra credit, etc.
To learn more about specific feedback for each program assessed through the focus groups, please read below.  
Plagiarism Prevention Program (PPP)
Focus group participants commented that they value the PPP, especially for international students who are unfamiliar with U.S. standards of writing. They further noted that the learning outcomes for the PPP are valuable for all students, not just for those students who have committed plagiarism. They identified, too, that more needs to be done to inform faculty about the existence of the PPP, sharing the program's history, purpose, data, and effectiveness.
While awareness of the PPP is important, the true value to students comes before the PPP is necessary through the Academic Integrity Awareness Program and resources available to the Webster community. The Academic Integrity Awareness Program and its resources focus on informing and educating students about academic integrity, proper citations and documentation, etc., so that they don't have issues with plagiarism and aren't required to take the PPP, which prohibits them from continuing coursework until they complete the PPP (for more information about the PPP and the Academic Integrity Awareness Program, please contact Carolyn Brown, assistant director of the ARC, at 314-246-7668 or carolynbrown04@webster.edu).
Participants of the focus groups also recommended that academic integrity and teaching how to avoid plagiarism be a mandatory component of First Year Seminars. This integration can be accomplished through various means, including adding available PowerPoints, recorded webinars, a WorldClassRoom unit, and/or a Kahoot! to any class, not just First Year Seminars. Please reach out to Carolyn Brown for more information.
Testing Center
Focus group participants noted improvements in Testing Center security and services and that the Testing Center is meeting its SLO of students advocating for themselves. However, they also expressed a need for an even more streamlined test submission process.
Testing Center staff members will continue to work to improve its functionality and security. For more information about the Testing Center, please contact Carolyn Brown.
Tutoring Program
Focus group participants recognized a need for the Tutoring Program to serve all Webster University students by providing tutoring support for greater depth and variety of courses to students at all Webster locations, on-ground and online. This goal has always been important to the Tutoring Program, and to expand tutoring services and access, the ARC is already moving forward to coordinate with an online, professional tutoring program that will help expand subject-area coverage and supports for all Webster students. The ARC will continue to provide on-ground, face-to-face peer tutors as well.
While the search process for a new Tutoring Program Coordinator continues, please contact Carolyn Brown for questions or assistance with the Tutoring Program.
Writing Center
The Writing Center was praised for its excellent writing coaches while focus group participants also asked for more consistency in communication between the Writing Center staff and faculty. They noted that more communication with regard to the coaches' roles and responsibilities and the specific writing tasks the coaches work on with students would be helpful. Additionally, more must be done to encourage students to use the Writing Center consistently. One suggestion was that faculty require use of the Writing Center.
The Writing Center team will continue to work on improving its services and communication. For more information about the Writing and Online Writing centers, please contact Kristin Cobos, writing and online writing center coordinator, at 314-246-8685 or kristincobos14@webster.edu.
tags:  academics, webster life, webster today, students, academic resource center, faculty,
News by Topic
Tag Categories
News by Topic
Tag Categories