Best Practices for Students Regarding Preparing for Final Exams
Apr. 1, 2019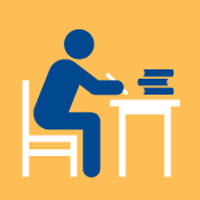 The Academic Resource Center (ARC) understands how stressful preparing for finals can be—for faculty members as well as students!
Final exams often test the knowledge students have acquired throughout the entire semester and depending on how their finals are weighted, their final exam grades could mean the difference between an A and a C on their transcripts.
The ARC recommends the following tips as students prepare for final exams and encourage faculty members to share this information with their students:
Finals Prep Tips:
1. Start early.
Start planning at least four weeks before each final.
Be realistic about how long it will take to study for each final.
Make sure you know your current grade in each class.
Write out which exams you have to take, and number them according to difficulty.
Schedule Tutoring and Writing Center appointments as needed.
2. Make a finals game plan.
Use a weekly calendar to map out study time for each class.
Use the calendar on your phone to set alerts and reminders so you stick to your plan.
Gather the materials you will need for each class, such as study guides, notes, slides, handouts, and textbooks.
Make a list of questions about difficult course concepts, and meet with your instructor(s), tutors, and/or peers to get assistance.
3. Give yourself more time to prepare for your toughest classes and research papers.
Look over previous assignments and review what you missed with your instructor(s).
Start a study group.
Get help regarding APA and MLA citations from the Writing Center.
If students are still struggling with how to study for finals, the ARC can help! Students should schedule an academic counseling appointment with Lisa Hempen through the Student Success Portal by going to their My Success Network, searching for Hempen and selecting Lisa's name. Then, they just click on the Schedule Appointment button and follow the prompts. (To access the Student Success Portal, students can go to success.webster.edu and log in with their Connections credentials.)
Alternatively, students may schedule an academic counseling appointment by contacting Student Success Coordinator, Lisa Hempen, directly either by email at lhoffmanhempen67@webster.edu or by phone at 314-246-8284.
tags:  academics, webster life, webster today, arc, academic resource center, ,
News by Topic
Tag Categories
News by Topic
Tag Categories