Brewer Returns for College of Fine Arts Residency
Feb. 4, 2019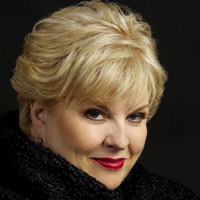 Christine Brewer, one of the world's great operatic sopranos and a visiting professor in the Department of Music, is in residence this week, Feb. 4-8, in the Leigh Gerdine College of Fine Arts.
During the week, Brewer will present master classes, teach voice lessons to advanced students, and join students for a final concert.
Events include:
Monday, Feb. 4 at 4:30 p.m.
A lecture/demonstration at Thompson Music Building (8282 Big Bend Blvd.)
This event is open to all at no charge.
Tuesday, Feb. 5 at 7 p.m.
A master class with students at Thompson Music Building (8282 Big Bend Blvd.)
Admission is $15. Proceeds benefit the James Moroney Nigh Opera Scholarship fund.
Friday, Feb. 8 at 4:30 p.m.
A final concert in the Winifred Moore Auditorium (470 E Lockwood Ave.)
This event is open to all at no charge.
"Christine is an old friend of our program," said the director of vocal studies Martha J. Hart. "She raises the bar for our students, who jump at the chance to meet expectations and work with her. Her annual residency is a highlight of the year for us."
The spring residency each year is focused on a specific aspect of vocal literature. Previous residencies have considered music by American women composers, and music by African-American composers. The 2019 focus is LGBTQ composers. Participating students have chosen and studied appropriate literature, which Brewer will coach during the week. The final concert features the same music, sung by students and Brewer.
Grammy Award-winning American soprano Christine Brewer is a resident of Lebanon, Illinois. Her appearances in opera, concert, and recital are marked by her own unique timbre, at once warm and brilliant, combined with a vibrant personality and emotional honesty reminiscent of the great sopranos of the past. Named one of the top 20 sopranos of all time (BBC Music), her range, golden tone, boundless power, and control make her a favorite of the stage and a highly sought-after recording artist. A philanthropist and humanitarian, Brewer is increasingly turning to where she began her career, in teaching and guiding young singers in finding their voice.
tags:  academics, college of fine arts, department of music, faculty, webster life, webster today,
News by Topic
Tag Categories
News by Topic
Tag Categories