Conservatory of Theatre Arts Presents 'The Little Prince' March 29-30
Mar. 26, 2019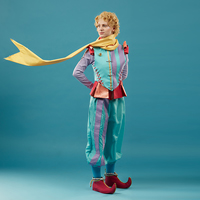 The Webster University Conservatory of Theatre Arts presents "The Little Prince" March 29-30 on Stage III.
Written by Rick Cummins and John Scoullar and adapted from the book by Antoine de Saint-Exupery, "The Little Prince" tells the story of a world-weary and disenchanted aviator whose sputtering plane strands him in the Sahara Desert and a mysterious, regal "little man" who appears and asks him to "Please, sir, draw me a sheep."
During their two weeks together in the desert, the Little Prince tells the Aviator about his adventures through the galaxy. The Little Prince talks to everyone he meets: a garden of roses, the Snake and a Fox who wishes to be tamed. From each he gains a unique insight which he shares with the Aviator: "It is only with the heart that one can see rightly." "What is essential is invisible to the eye."
Critical Acclaim
"Not only does it clearly capture the tale of a man whose creativity was crushed in childhood only to re-emerge at a moment of great stress, but The Little Prince deftly illuminates Saint-Exupery's themes of the meaning of love, the opposing pulls of solitude and companionship, and man's relationship to the universe itself." -Chicago Sun Times
Tickets
For tickets to all Conservatory of Theatre Arts productions Call (314) 968-7128.
Webster Students, Faculty, and Staff: free with a valid Webster University ID
General Admission:
$15 for Adults
$7 for Seniors, Alumni, and Non-Webster Students
$2 for children 12 and under
About the Webster Conservatory
Located in St. Louis, Missouri, the Conservatory of Theatre Arts at Webster University has been training theatre students for the professional world for over half a century. The Conservatory at Webster is a professional training program for acting, musical theatre, directing, theatre studies and dramaturgy, design, technical theatre and stage management.
One of the distinguishing elements of Webster's Conservatory is its integrated association with professional theatre companies, two of which are located on campus: The Repertory Theatre of St. Louis and Opera Theatre of Saint Louis. Webster also enjoys a one of a kind association with St. Louis professional theatre organizations including, The Muny, Variety: the Children's Charity, Shakespeare Festival of St. Louis and the Lyceum Theatre in Arrow Rock, Missouri, the state's oldest Equity Theatre.
Conservatory alumni have won a number of awards including Golden Globes, Tony Awards, Obie Awards and Emmys.
tags:  academics, college of fine arts, home page, conservatory of theatre arts, students, webster life, webster today,
News by Topic
Tag Categories
News by Topic
Tag Categories