Cyber Explorers: Middle school girls gain insight into cybersecurity, computer science
Nov. 14, 2019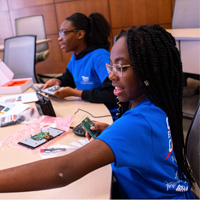 Webster University hosted its third annual girls' Cyber Explorers Workshop in partnership with Gateway to Innovation, Willis Towers Watson, Best Buy, First Bank, RGA, and the George Herbert Walker School of Business & Technology at the home campus in Webster Groves on Saturday, Nov. 2.
The day began with the dean of the George Herbert Walker School of Business & Technology, Simone Cummings, welcoming the 30 aspiring young middle school student-leaders from various St. Louis-area and metro-east schools and one agency.
A series of interactive training sessions focused on stimulating interest in cybersecurity and computer science was led by Math/Computer Science Department faculty member and Webster cybersecurity professor James Curtis. The students also learned about cybersecurity in a series of short sessions focused on the use of a variety of social media, including Facebook, Instagram, Snapchat, and Twitter. Cyberbullying issues were also covered and discussed.
Students also gained knowledge regarding hardware architecture by building their own Raspberry Pi mini-computer, and were introduced to software coding using Python programming scripts.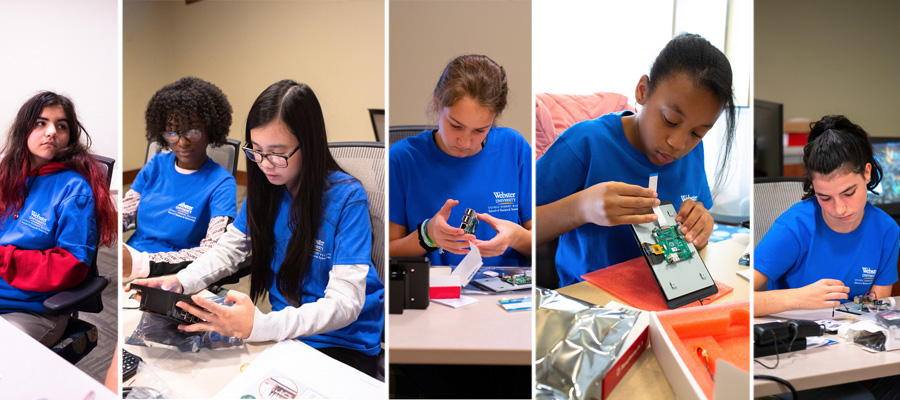 Area Participation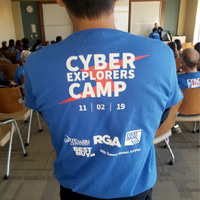 The Cyber Explorer girls came from schools in St. Louis City, St. Louis County and the Metro-East, including Brittany Woods Middle School (University City), Hazelwood Central Middle School, Hazelwood North Middle School, Hixon Middle School (Webster Groves), Ferguson-Florissant STEAM Academy Middle School, Jennings Junior High School, St. Raphael the Archangel School, and Mason-Clark Middle School (East St. Louis); as well as the Jackie Joyner-Kersee Center.
"We are excited our funders make it possible for us to offer this program," said Quen Agnew, director of Corporate Relations at Webster University. "We are grateful we have been able to grow and expand the program to the Metro-East. This opportunity plants seeds of future educational pathways for young girls. We believe this workshop cultivates an understanding of computer science and cybersecurity and provides them hands-on experiences about these fields of study."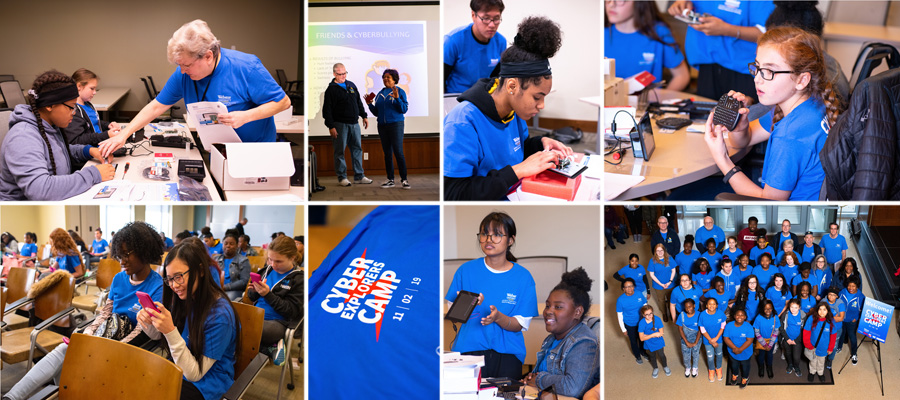 About Cyber Explorers
The Cyber Explorers Workshop at Webster University is designed to stimulate interest in cybersecurity specifically – and computer science more generally.
Currently, there are more opportunities for employment in cybersecurity than there are individuals trained to fill these positions. According to the U.S. Bureau of Labor Statistics, employment in this area is expected to grow 32% from 2018 to 2028, much faster than the average for all occupations.
Unfilled cybersecurity jobs are expected to reach 1.8 million by 2022 – up 20% from 1.5 million in 2015. Given the fact that the median salary in this field exceeds $90,000, cybersecurity employment represents a tremendous opportunity for women, who make up about 24% of the U.S. cybersecurity workforce currently, as measured among cybersecurity workforce and IT professionals who spend at least one-quarter of their time on security work.
Questions about the Girls' Cyber Explorers Workshop can be directed to Quen Agnew at 314-246-5949.
tags:  academics, school of business and technology, webster life, webster today, faculty, community engagement,
News by Topic
Tag Categories
News by Topic
Tag Categories