Dean's Award Recipients Named for Fall 2019 Semester
Dec. 19, 2019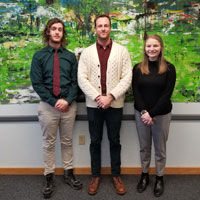 Interim Associate Vice President for Student Affairs and Dean of Students John Buck has selected three individual students to receive the Dean's Award for Service for fall semester: Michael Guthrie, Michael Thomas, and Elizabeth Gerger, all from the Webster Groves campus.
To be considered for the Dean's Award, one must be nominated by a member of the Webster University community for performing a valuable service. Buck says the term "service" encompasses a broad range of contributions made by students, both on- and off-campus.
Dean's Award for Service Winners
Michael Guthrie, a sophomore education major from High Ridge, Missouri, was nominated by Kate Northcott, director of the Student Literacy Corps. Guthrie was nominated for his on-campus service as a tutor and representative of Webster University and for his many off-campus involvements, which include serving as a former Marine. Guthrie also volunteers as a tutor and mentor for Nahed Chapman New American Academy at Roosevelt High School, and is said to be "the most involved and invested volunteer the program has seen in years."
Michael Thomas, a senior english major from St. Louis, Missouri, was nominated by Kristin Cobos, coordinator of the Writing and Online Writing Center. Thomas was nominated for serving as a student representative on the Accessibility Committee as a student Writing Coach, as well as president of the Literature Club. Even more impressive, Thomas helped organize a trip to the Association for the Study of Literature and Environment (ASLE) conference in California, where he helped organize the creation of a student panel to share their experiences at this conference with the Webster community.
Elizabeth Gerger, a junior public relations major from St. Charles, Missouri, was nominated by Lawrence Baden, associate professor in the School of Communications. Gerger was nominated for her "excellence as a student who is making positive impacts in and out of the classroom," as she serves as a member of the women's tennis team, and as a student worker in the Office of Study Abroad. In her spare time, Gerger volunteers for Love Your Melon, an organization that supports children with cancer, by visiting them in the hospital to let them know they are important and are not alone.
Up to four students are recognized each semester with the Dean's Service Award. These awards were presented at a luncheon on the Webster Groves campus on Dec. 18.
tags:  academics, webster life, webster today, home page, school of communications, school of education, students,
News by Topic
Tag Categories
News by Topic
Tag Categories