Webster Team Places Third in Deloitte's Cyber Challenge
Apr. 4, 2019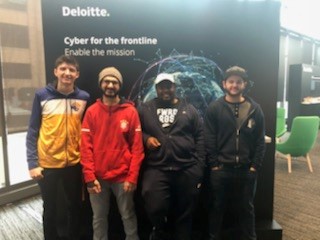 A team of four Webster undergraduate students participated in Deloitte's inaugural cyber Capture-The-Flag (CTF) competition at Innovation Hall in St. Louis on March 29.    
During the six-hour competition, the Webster team used their laptops and hacking tools running the Kali Linux operating system during the competition.
 The CTF challenge is designed to sharpen cybersecurity skills and provide hands-on learning and networking opportunities for participants.  The challenges vary in difficulty level among web, networking, reverse engineering, cryptography, steganography, forensics, and miscellaneous categories.  This was an inaugural cyber competition hosted by Deloitte in the St. Louis area offering a unique learning opportunity in a fun, competitive environment.  Our Webster team named "Gorlok Crackers" scored 325 points in six hours, placing 3rd overall and winning $1,500. 
 Given only 2-days of preparation time, this was an outstanding accomplishment.  It became evident early on that the 1st place team, named Massir, which earned 1,600 points, one of the highest scores the organizer had seen in these competitions, had highly skilled and experienced participants.  Regardless, Webster did quite well, all things considered.
Team Composition. At most five student teams were allowed to register for the challenge hosted by Deloitte in the Innovation Hall in downtown St. Louis, MO.  The five student teams included one from Webster University, two from University of Missouri-St. Louis (UMSL) and two from Washington University at St. Louis.  The Webster team consisted of computer scientists Issa Al-Zadjali, Ryan Jennings, and Jakob Michelizzi and mathematician Leeam Shutzman.
Webster Place Movement over Competition.  During the six-hour competition, the Webster team, Gorlok Crackers, held three different places – 4th, 3rd, and 2nd at different points in time.  Upon their 1st captured flag, they moved into 4th place and were 50 points behind Team UMSL.  When they captured the next flag, Webster moved into 3rd place; although tied in points with Team UMSL they were faster in earning points.  Webster stayed in 3rd until the 4th time period, where they overtook Team UMSL by 25 points and were now behind the 1st place Massir team by 975 points.  Unfortunately, Team UMSL surged ahead after capturing several consecutive flags and placing Webster back in 3rd place and behind them by 525 points.  In the last time period, Webster earned another 125 points, in part, thanks to the Massir team assistance with two challenges to hold onto 3rd place.  Hence, it was a fun and friendly competition where all participants collaborated, in the end, to help accelerate participant knowledge and skills.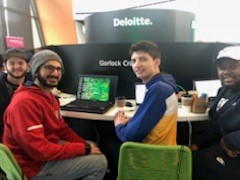 Setting the Mood.  Before the start of the competition, the Webster team decided to get in the mood with a proper "hoodie" photo.  The Gorlok Crackers were mentally prepared to take on this challenge as the place and score movement above indicates.  Also, their Coach, Dr. Kelly, was there before, during, and after the competition to encourage them on.
 Webster Participants Solving Challenges.  Each Gorlok Cracker participant, or Webster team member, tackled the challenges both individually and collectively.  Prior to the competition, each picked a primary area to focus on and a secondary area to provide assistance to teammates as needed.  For instance, Ryan chose web vulnerabilities as his primary and cryptography as secondary.   Also, Issa decided to focus on reverse engineering as a primary and networking as a seconding.  Furthermore, Jakob picked networking as a primary and reverse engineering as a secondary.  In addition, Leeam had cryptography as a primary and forensics as a secondary.   This allowed each participant to get up to speed on a few tools and techniques over the limited amount of preparation time to enable the entire team to maximize their potential across all categories.  Overall, this approached worked well.    
tags:  academics, school of business and technology, webster life,
News by Topic
Tag Categories
News by Topic
Tag Categories