Webster University and Dignity Health Global Education partner to advance health care education
Apr. 3, 2019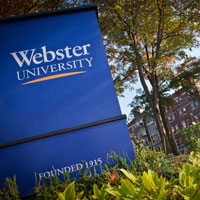 ST LOUIS/SAN FRANCISCO – Dignity Health Global Education (DHGE), the leading healthcare workforce development company, today announced a new partnership with Webster University to deliver credit and non-credit bearing programs in healthcare education.
Through this partnership the institutions will expand their expertise to meet the growing needs of learners serving in the vital area of healthcare.  This pairing combines Webster's global excellence in teaching with Dignity Health's leading industry insights to provide dynamic, relevant opportunities to individuals working to make a difference in the field of healthcare.
The proposed offerings will build on Webster's current programs while incorporating DHGE's industry insights from being part of the largest not-for-profit health system in the U.S. The first program is expected to launch in October 2019.
"We are thrilled to be partnering with Webster University, to support our vision to provide academically excellent qualifications, made with industry for industry," said Andrew Malley chief executive officer, DHGE. "Webster is an outstanding, global, not-for-profit university, offering a student-centered, experience.  This aligns wonderfully with DHGE's vision and values. We are excited to expand, with Webster, access to higher education to healthcare professionals with an industry focused platform underpinned by academic excellence"
 "The workforce continues to evolve with changing demands from industry and the introduction of emerging technologies that require new skills," said Julian Schuster, Webster University's provost, chief operating officer and senior vice president. "Frequently, those pursuing advanced degrees or certificates are already in the workforce but need new skills in order to keep up with job demands. These types of partnerships make it much easier for employees to pursue those educational goals without creating a significant interruption to their lives or careers."
About DHGE
Dignity Health Global Education is a joint venture between Dignity Health, and Global University Systems (GUS) to provide excellent education opportunities to the healthcare workforce - online qualifications made with industry, for industry underpinned by academic excellence. Dignity Health recently merged with Catholic Health Initiatives (CHI), to form the largest not for profit health system in the US, which employs  more than 150,000 staff, boasts over $29 billion in revenue, 700 care sites and 142 hospitals across 21 states.
About Webster
With its home campus in St. Louis, Missouri, USA, Webster University (www.webster.edu) comprises an action-oriented global network of faculty, staff, students and alumni who forge powerful bonds with each other and with their communities around the globe. Founded in 1915, Webster is a private non-profit university with students studying at campus locations in North America, Europe, Asia and Africa and in a robust learning environment online. The university is committed to ensuring high-quality learning experiences that transform students for global citizenship and individual excellence.
tags:  academics, college of arts and sciences, home page, provost, webster today,
News by Topic
Tag Categories
News by Topic
Tag Categories