Chordloks Release News EP 'Sounds of Cinema'
Jun. 24, 2019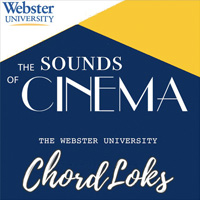 Chordloks, Webster University's only co-ed a cappella singing group, announces "The Sounds of Cinema," a new EP recording. The recording of songs from movies is available on iTunes, CDBaby, and other platforms. 
Dragomir Page, president of the student organization, said "Addie Struckman and I were in the parking lot the first week of school and said 'let's start an a cappella group,' and we did. We are Webster University's only ensemble like this, performing all sorts of music with no instruments except our voices."
Members of the group (2018-19) include Madalyn Tomkins, Erica Ancell, Meghan Storts, Addie Struckman (vice president), Katie Tobnick, Dharma Merkle, Jo Phillips, Jamison Mckeehan, Brad Sievers, Caleb McCarroll, Brian Matthews, Dragomir Page (president), Damarius Levi, Wesley Curtis, and Angel Calo (vocal percussion).  The group's music director is Jeremy Jacobs.
"We are so delighted to see a new student-led group pop up, and be so determined in their focus and their outcomes," said Jeffrey Carter, chair of the Department of Music. "Numerous first- and second-year year music majors are involved in this project. And their sound is just smashing!"
Chordloks performs one or two concerts each semester on campus, and by invitation at other events.
tags:  academics, college of fine arts, webster life, webster today, department of music,
News by Topic
Tag Categories
News by Topic
Tag Categories