More Dates Added for the Bee Blitz
Jun. 24, 2019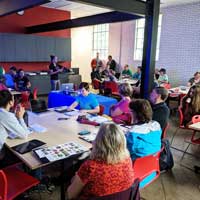 Rain, thunder and lightning were not enough to keep the citizen scientists away last Saturday. More than 40 volunteers showed up at the Visitor's Center in Forest Park at 10 a.m. to learn how to photograph bees and hear a lecture from Professor Nicole Miller-Struttmann about her St. Louis Bee Blitz project, now in its third year.
The volunteers were initially scheduled to spread across Forest Park in the late morning to capture photos of bees, but that portion of the day was canceled due to safety concerns because of the inclement weather. All 76 volunteers were informed of the change early in the morning. Despite that, more than half still showed up for the lecture.
The St. Louis Bee Blitz is part of a long-term national study.  The photos of bees taken by the volunteers, along with data about when and where the photos were taken, are uploaded to a database for later identification. Biologists then catalog and estimate the health of bee populations in urban areas using the data provided.
This year, Miller-Struttmann is adding more opportunities for citizen scientists to volunteer and help biologists gather more data on the health of bees. She will be leading volunteers through Forest Park on July 20, Aug. 17 and Sept. 14.
St. Louis BeeBlitz is presented in partnership with the St. Louis Bee Brigade, a citizen science BioBlitz collaboration of Webster University, The Academy of Science of St. Louis, the Saint Louis Zoo, Saint Louis University, BeeSpotter of the University of Illinois, and Forest Park Forever.
To register for the event or for more information, visit https://events.webster.edu/event/third_annual_bee_blitz.
tags:  academics, college of arts and sciences, home page, webster today,
News by Topic
Tag Categories
News by Topic
Tag Categories