Nursing Program Ranked as One of the Best in the Nation
Mar. 13, 2019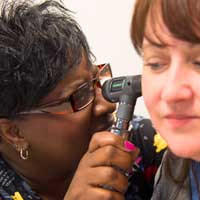 ST. LOUIS - Webster University's Nursing Program this week was ranked as one of the best in the nation by U.S. News & World Report. The ranking appears online as part of the magazine's annual "Best Graduate Programs" list.
This is the first time Webster's nursing program is listed among the top 200 of programs in the United States.
"Webster's nursing program includes tracks for nurse educators and nurse leaders. It provides the best services needed for the community. Our program is also addressing the nursing shortage by training nurses to prepare the next generation of nursing professionals, and there is a high demand for our nursing professionals throughout the nation," said Anton Wallner, dean of the Webster University College of Arts & Sciences, home to Webster's nursing and nursing anesthesia programs. "I would like to congratulate the staff and faculty whose dedication to providing quality education and services to our students is reflected in the program's ranking this year."
U.S. News & World Report surveyed faculty and students in 584 Masters of Nursing programs in the summer of 2018. Factors used to rank the schools included research activities, faculty credentials, the percentage of faculty with significant achievements on their resumes, and the percentage of faculty with who have worked in the field of nursing. Overall, Webster's program was ranked 176th, the first time it appears on the top 200 list.
Among Missouri institutions, Webster's nursing program was listed fifth among the seven institutions named on this year's list.
Webster's Department of Nursing offers an RN to BSN Program in Nursing and a Master of Science in Nursing to registered nurses seeking to further their education and advance in their career. The curriculum focuses on preparing today's nurses for the rapidly evolving health care industry and the increasingly vital role which nurses play in supporting and advocating for the health of our communities. As experienced nurses from a wide variety of health care backgrounds, the faculty take a holistic, real-world approach to nursing theory and practice, and are deeply invested in making sure students graduate with the knowledge and skills they need to make a positive difference in their field.

Both the bachelor's and master's programs are accredited by the Accreditation Commission for Education in Nursing (ACEN). For more information about Webster's Nursing Program, visit http://www.webster.edu/arts-and-sciences/academics/nursing/.
To see the entire "Best Graduate Program" list, visit https://www.usnews.com/best-graduate-schools.
tags:  academics, college of arts and sciences, home page, webster today,
News by Topic
Tag Categories
News by Topic
Tag Categories