WebsterLEADS Spring 2019 Cohort Poster Presentation May 1
Apr. 29, 2019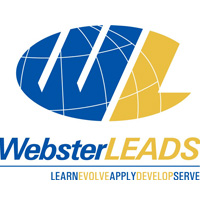 The Webster University community is invited to a viewing of posters presented by the WebsterLEADS Spring 2019 cohort on Wednesday, May 1, from 2-3:20 p.m. in Sverdrup Hall.
Students will present original leadership models of personally compelling leaders. This is the final project for the foundational course of the WebsterLEADS program: The Challenge of Leading.

WebsterLEADS is Webster University's leadership certificate program, which engages students in an on-going application of scholarship and practical leadership experiences that develops a foundation from which they will change the world.
LEADS is an acronym that stands for Learn Evolve Apply Develop and Serve.
Details
Date: Wednesday, May 1

Time: 2-3:20 p.m.

Where: Sverdrup Hall, West Atrium

Spring 2019 Cohort Members
Madison Bergmann
Andrew Buchholz
Kylie Burke
Haley Emelko
Sarah Hill
Tyler Lingle
Dylan Manning
Jovan McBride
Dharma Merkle
Blake Mickens
Henok Moges
Megan Plunkett
Charlotte Renner
tags:  academics, webster life, webster today, student affairs, students, ,
News by Topic
Tag Categories
News by Topic
Tag Categories