Tutoring Resources Available Through Academic Resource Center
Feb. 3, 2020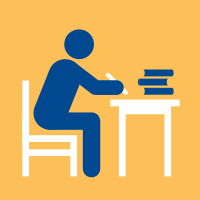 With the Spring semester underway, students may be interested in additional subject-matter assistance. The Webster University Tutoring Program at the Academic Resource Center (ARC) provides tutoring assistance to current Webster University students on-ground and online through peer tutoring and a professional, online tutoring service called NetTutor.
Both resources are free of charge and can help students achieve greater confidence, independence, and success as learners.
Peer tutoring is available at the Webster Groves campus in certain subjects. These schedules can be found here. Click the "Schedule a Tutoring Appointment" button on the ARC website to schedule an appointment via MyWCOnline.
 NetTutor is available to all Webster students – graduate and undergraduate throughout the worldwide network, including online-only students. Professional tutors are available for many subjects, and if one is not readily available, NetTutor will try to connect the student with a professional tutor.
To use this resource, students will sign in to any course in WorldClassRoom (Canvas) and click on NetTutor in the left-hand Course Tools Menu.
Students are encouraged to visit the ARC website to read about what they can expect during a session as well as tips to ensure successful tutoring sessions.
Contact Tutoring
Questions about the Tutoring Program should be directed to Cherie Wyatt, Tutoring Program Coordinator, at 314-246-7107 or cheriewyatt41@webster.edu.
tags:  academics, webster today, academic resource center, students, tutoring,
News by Topic
Tag Categories
News by Topic
Tag Categories