Information Technology Announces Beta Launch for Zoom
Aug. 5, 2020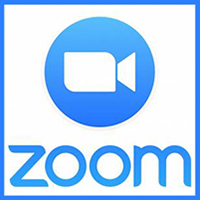 The Information Technology department recently announced that Webster University would soon launch Zoom as the new web conferencing solution. We have worked hard to make sure this option is available to you for the Fall 2020 semester.
A beta launch for faculty and staff is now available. During this beta launch period, support will be limited and is intended to collect some early feedback on faculty and staff experience with the tool. 
Individuals eligible for Zoom accounts include active staff, full-time faculty, adjunct faculty members assigned to teach during the 2020-21 academic year, and students registered for classes during the 2020-21 academic year.  Students will receive their access and training on Aug. 10. You should have received a detailed email to your Webster email account on Tuesday evening with instructions on how to sign in and a list of useful training and support resources.
Important note for individuals with existing zoom accounts tied to their Webster email:
If you have a Zoom account already that is tied to your Webster University email, you will be able to merge your existing account into the University's enterprise level account, however, you MUST manually accept an invitation email that has been sent to you. 
If this impacts you, you should have an email in your inbox with the subject line of "Zoom account invitation" coming from no-reply@zoom.us.  You must click the button that says Approve the Request in that email. You will then be taken to a page to confirm you wish to switch your account. You can click on the I Acknowledge and Switch button OR if you wish to retain your existing account, you will need to update your other account to a personal email address instead of your Webster email address before switching accounts. It is very important to take these actions before attempting to sign in or you will receive an error.
If you had a paid account instead of a free account, please review the training in the Knowledge Center (see below) for details on steps to take related to how to obtain a pro-rated refund on your personal Zoom account purchase if you choose not to retain that account under a different email address. 
How to Prepare for Training
There are three important steps you should take now. 
Step 1:  Download the Zoom Client - For the best user experience, please install and run the Zoom Desktop Client on your local computer. Detailed instructions are located at webster.edu/technology/zoom/gettingstartedl. Once the Zoom Client is installed, it is very important to remember to ALWAYS click on the Sign In with SSO (Single Sign-On) button as shown below. Enter webster-edu whenever prompted for the domain.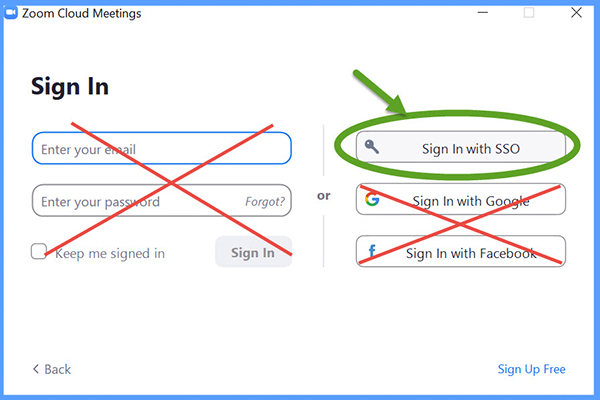 Step 2:  Access Your Account via Web Browser – In order to manage your account settings, you will log on through your web browser. Please visit webster-edu.zoom.us and click the Sign In button and log on with your full @webster.edu email address and password. If you experience challenges with the client install, you can use the web version to join and start meetings. You can view a chart that provides a comparison of features available in the downloaded version of Zoom, vs mobile vs web browser here.
Step 3:  Proceed to the Webster Knowledge Center for Training Resources – Please visit the Webster Knowledge Center to complete the abbreviated Zoom training. Please note that there are important components related to privacy that must be completed prior to Zoom usage. If you receive an error when attempting to access the Knowledge Center, please email olc@webster.edu to request access. 
You can find 24/7 support guides, tutorials and live training options via Zoom's Help Center. We have consolidated a list of helpful resources at webster.edu/technology/zoom/resources.
Please note that not every feature included in Zoom's training will be available in Webster Zoom accounts.  Additionally, please understand there may be settings that are updated/changed over the coming weeks.
Question about Zoom 
Please check out our Zoom web page. Also be sure to access the Webster Knowledge Center where you will find useful training and information on available office hours for faculty. We will also be announcing some Zoom Coffee Break/Happy Hour sessions for staff and faculty soon.
Share Your Feedback
As you start using the system during this beta launch, we want to hear from you. Please submit any feedback you have via this Zoom Feedback form.
tags:  academics, employee news, faculty, webster today, information technology, online learning, extended campus, global,
News by Topic
Tag Categories
News by Topic
Tag Categories