Study Abroad Scholarships Awarded to 22 Students
Feb. 5, 2020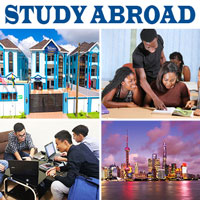 The Office of Study Abroad is happy to announce that Webster study abroad scholarships have been awarded to students going abroad on Spring 2020 programs. Overall, 22 students received awards, 16 for the Spring Semester, two for Spring 2 and four for Spring Break programs. Awards ranged from $1,000-$4,000 and the average award was around $2,500.
Students were selected based on a variety of factors, including GPA, financial need, essays, recommendations, and the specific requirements of each award. Students who demonstrated both financial need and high merit received the highest amount of funding. A Study Abroad Scholarship Committee made the final selection of awardees. A small reception to honor the recipients was held during International Education Week on Nov. 19.
Abigail Karst, junior, Math major, who is studying abroad at the Vienna Campus this spring semester, received the Next Century Endowed Leadership Scholarship. "This semester I had to take out some private loans to pay for housing, but with this scholarship, I get to pay off those loans, so that just relieves a lot of stress off of me," said Karst. 
Study abroad scholarships are made available through generous funding from Webster donors with assistance from the Office of Advancement and the Office of Financial Aid. During the current academic year (2019-2020), Webster students received over $110,000 in study abroad scholarships. These scholarships are in addition to the Webster World Traveler Program (WWTP), which covers free round trip airfare for study abroad participants on term-long (or longer) programs.
Study Abroad Scholarships
The Next Century Leaders Endowed Scholarship Fund
The Marilynne Bradley Endowed Fund for Undergraduate Study Abroad
Dr. Neil George Endowed International Study Scholarship
The Marianne E. Gleich & Peter A. Gleich Endowed Scholarship for Undergraduate Study Abroad
The Yakko and Richard S. Meyers Japan-United States Study Abroad Scholarship Fund
Leif J. Sverdrup Scholarship
The Dr. Roy Tamashiro Endowed Travel Scholarship
All awards are need-based and some awards have additional requirements, such as study abroad in a particular geographic region, GPA, undergraduate or graduate program status, etc. Students at International Campuses who are studying abroad can apply for The Next Century Leaders Endowed Scholarship Fund, The Dr. Roy Tamashiro Endowed Travel Scholarship and the Leif J. Sverdrup Scholarship.
In addition to the above, the Office of Study Abroad has awards that are available on a temporary basis to support specific programs. For example, students going on the Introduction to Africana Studies Fall Break 2019 program were able to apply for a scholarship provided through the Vision Fund (a startup fund for new university initiatives) and Webster Thailand has offered housing scholarships to students studying abroad there.
Scholarships application are accessible through the Office of Study Abroad web site and deadlines are as follows:
Summer- Feb. 28
Summer Faculty-Led- Mar. 15
Fall (Fall 1, Fall 2 and Fall Semester)- Mar. 30
Fall Faculty-Led- April. 15
Spring (Spring 1, Spring 2 and Spring Semester)- Sept. 30
Spring Break- Nov. 15
For more information on study abroad scholarships, please visit the Office of Study Abroad Scholarships page.
tags:  academics, webster today, home page, study abroad, students, scholarships, financial aid,
News by Topic
Tag Categories
News by Topic
Tag Categories