A Global Perspective
May. 6, 2015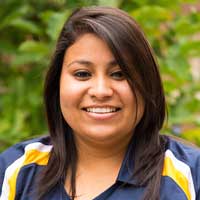 ST. LOUIS (MAY 6, 2015) – Growing up in Calcutta, India, Debhuti Roy saw the benefits of global travel by watching her father's career.
"My whole reason for studying in another country is my father – he was a professional cricket player," Roy said. "He retired from playing cricket in 1993 but has continued to be professionally involved in other roles. Growing up there were times when I could only see him a week out of every month because he was traveling with the team. He would travel year-round and he has seen so many other countries. Because of that, he always pushed me to study abroad because he knew it will expose you to another culture and that you truly get a grasp of how the world is."

At 18, Roy moved from India to Allentown, Pennsylvania, for an undergraduate degree in microbiology. After graduating and doing a year of research work at Kutztown University, she decided to attend Webster University.
"I had heard good things about the MHA and MBA dual degree," said Roy. "Also, one of my very close friends went to Webster's Geneva campus and I have quite a few friends who were studying in the Thailand campus and they all really enjoyed their experience."
Roy will graduate with the MHA and MBA in 2015 and plans to work in hospital administration. While her education in St. Louis is a study abroad experience for herself, Roy also says she did "study abroad abroad" when she left St. Louis and attended a semester in London.
"My first experience of coming to the U.S. and the experience of going to London – those were very different," said Roy. "When I first got to America, I was the most introverted student in my class. I didn't know anything – I didn't know how to talk to people – I was so nervous I would do something wrong. When I went to London I knew I could do this. In London, I knew I would be OK. Before I was afraid of making a mistake and now I'm ready to conquer every challenge. I had been in an unknown country for four years and I knew I could do another one."
To fully experience the culture in America, Roy pushed herself to get involved, holding a number of leadership positions on campus. Because of her campus leadership, she was selected to be one of the participants in the Global Student Leadership Summit over Spring Break.
"I was never involved back in undergrad and not just because I was an introvert but because I couldn't find the time," said Roy. "I had three science classes per week with 12 hours of lab – there was very little free time.  But now, the whole idea of being involved ties in so well with my curriculum at Webster and it is amazing. The kind of job I want is based on leadership, every management class I take is about leadership but you can't learn leadership in a book—practical experience makes all of the difference."
Roy serves as President of the International Student Association, a Student Ambassador, a Student Government Association senator for the George Herbert Walker School of Business and Technology and a New Student Orientation Leader. Additionally, due to her on-campus job in the Multicultural Center and International Student Affairs office, she does public speaking engagements about her culture around the Webster Groves community. She says that this experience has made her time in St. Louis more interesting and encourages other international students to get involved on campus.
"When International Student Orientation happens, I am always pushing new international graduate students to join the International Student Association if they're nervous about doing bigger things. They can only work 20 hours a week at an on-campus job, so with the rest of their time they need to get involved, meet new people and make friends."
"To me, Deb embodies the values of true student leadership and global citizenship – international experience, passionate about raising cultural awareness, open to learning more about others, and most importantly, enthusiastic and experienced in challenging her peers to be as involved as possible," said Bethany Keller, assistant director of Webster University's Multicultural Center and International Student Affairs. "Deb's impact on the International Student Association and the Multicultural Center and International Student Affairs will last long past when she graduates. She has set the bar high for international student involvement on campus and in contributions to the community."
Roy hopes that in addition to influencing international students to get more involved on campus she can also influence American students to study abroad.
"You need to try it to understand what impact it's going to have on your life," she said. "I have studied abroad in two countries and have traveled to many other countries and it's an amazing experience that will change you for life. You get to know yourself you get to see yourself and what your weaknesses are and what your strengths are. You get to meet new people and you get a bigger perspective on issues. All this builds you up for the next step in your life. Finding a job is not easy. Having a bigger perspective and a global perspective is an amazing thing that puts you above other candidates."
After graduating, Roy hopes to stay in America for a few years to gain experience within the American hospital system before returning to India to work in hospital administration there.  She feels that her international education gives her a competitive edge and she's grateful to her parents for helping her gain the confidence to succeed at it.
"If I'm going to work in an administrative position, I need to be able to be open to different cultures," she said. "I thought study abroad would help me and it really has—not only in knowing the different perspectives of people and learning more about the different global health systems but also in so many others ways. My parents have given me an open road to do whatever I have to do and it helped me to grow."
Roy is one of 1,155 students participating in the Commencement ceremonies on May 9, 2015. Her parents will be in St. Louis to cheer her on. 
tags:  academics, global, alumni, webster life, school of business and technology,
News by Topic
Tag Categories
News by Topic
Tag Categories