From "Cap & Gown" to "Gown & Crown"
May. 4, 2015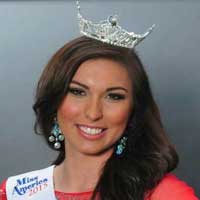 ST. LOUIS (May 4, 2015) – As graduating Webster students prepare for Commencement, the stress of finals week will be replaced by the stress of job searches and moves. Kristen McDowell, a senior graduating with a special education degree in the School of Education, has already been hired at an area school district for a teaching job this fall, but that doesn't mean her summer is stress-free. A few weeks after wearing a cap and gown at graduation, she'll be wearing a different type of gown as she competes for the title of Miss Missouri.

"People always ask me 'Why would you even want to be Miss Missouri? What's the point of it?'" said McDowell. "In my life, I've always wanted to make a difference. That's all I want. That's the reason I want to be a teacher, I'm not going for the money. I love kids and I know I can make a difference in their lives but I want to take it a step further than the classroom."

As the current Miss Northwest Missouri, McDowell is one of 26 women who will be competing for the title of Miss Missouri in Mexico, Missouri, from June 7-13. Preparations for the pageant combined with her duties as Miss Northwest Missouri have created a very busy Spring semester for McDowell.

"I have had a couple of events I've had to do in Maryville, Missouri, as part of being Miss Northwest Missouri," she said. "I've had to drive up for mock interviews and I've done a few other events and appearances. I've also been student teaching and preparing for the Miss Missouri pageant so it can be challenging to make everything work."

In addition to her work in pageants, McDowell is also very involved on campus participating in Campus Activities, Delta Phi Epsilon, Student Education Association, Student Athlete Advisory Committee, Webster LEADS, the University Center Board, the Delegate's Agenda and the volleyball team.

"Kristen has been such a great asset to Webster," said Jennifer Stewart, director of student engagement. "Her dedication to athletics, student organizations, academics and Webster overall never wavers.  She is such a great role model for other Webster students, hopefully she will soon be a role model for the state as Miss. Missouri.  We can't wait to cheer her on."

McDowell has been working as a student teacher in special education at Fox high school working with children who are emotionally disturbed or have behavior disorders.  Her work in special education played a large part in the platform she's selected to promote as Miss Northwest Missouri.

"I've always been told to let your platform choose you, but I couldn't decide until one day when I was talking to a friend and I told her that I hate the word 'retarded,'" she said. "People don't understand that when they say it, there could be someone that's disabled around them or a family member who is disabled and it's just offensive to them. It's hurtful. You may not mean for it to be hurtful but it is. I decided to pick 'The R-Word: Spread the Word to End the Word' as my platform. It is about promoting inclusion and being respectful to one another and diminishing the R-word from everyday language."

Her ability to make a change in special education is a big part of why she's involved in pageants.

"People don't realize that Miss Missouri and Miss America get to talk to our government leaders. She gets to make a big difference in what happens. In education as a teacher, I can only do so much but imagine if I had that title, I could speak to our senators and representatives about education and what they could do in Washington, D.C. I could make that difference and that's what I really want to do. "

McDowell says that this ability for Miss America contestants to make a difference and serve the community is something that most people aren't aware of when they think of pageants.

"I think that a lot of people look at pageants thinking that the person who wins is the prettiest or the skinniest and that's not necessarily the case," she said "I've learned a lot of really valuable skills from pageants that people don't understand that you learn. A lot of my interviewing skills came from pageantry. We also do a lot of community service as title-holders. Everyone in the Miss America system is passionate about a platform and that's what they want to promote and that's a big part of what we do. People don't see that. They think it's all about swimsuit competitions and that's not the case."

McDowell said that the poise and confidence she has gained by being in pageants were instrumental in helping her get hired for a teaching a job this fall. She has accepted a position as a special education teacher and volleyball coach at Warrington High School. Knowing she has a job that she feels passionately about waiting for her in the fall has helped her prepare for the June pageant.

"If I win – from the second I win Miss Missouri until September, I am preparing for Miss America– it will be my main focus," she said "If I don't win--I'll know I did my best. Only 26 girls get to compete in Miss Missouri and the fact that I'm one of them is a big accomplishment already. So on June 13 if it's not me with a crown on my head, then I'll know I learned something and I have a life waiting for me that next week. I will get back up on that Monday morning and know I've got a coaching job to go to and I'm back to my regular life."

The Miss Missouri pageant can be viewed online as it happens. For more information, visit their website atwww.missmissouri.org.
tags:  academics, alumni, school of education,
News by Topic
Tag Categories
News by Topic
Tag Categories