No Fear Allowed: Laura Herring book release Oct. 6
Oct. 5, 2015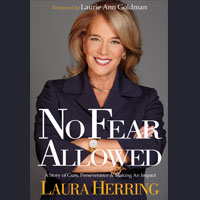 Webster alumna and current Board of Trustees member Laura Herring BA '70, has a message for anyone and everyone who wants to realize their full potential. It can be summed up in three words: No. Fear. Allowed.
On Tuesday, Oct. 6, Herring will release her book, No Fear Allowed: A Story of Guts, Perseverance & Making an Impact. The book, published by Morgan James Publishing, is $13.99 and available Oct. 6 on Amazon.com. Those who order on Oct. 6, at nofearallowed.com will also receive $350 worth of No Fear gifts, including an audio download of the "Lessons Learned" at the end of each chapter, a downloadable PDF No Fear Allowed workbook and a No Fear webinar with Herring on Oct. 27.
In 1988, Herring founded IMPACT Group, which helps couples and families – especially dual-career couples – deal with the negative effects of corporate relocations. IMPACT Group has grown to be a $50 million company and the No. 1 industry leader. Originally, Herring intended the book to help entrepreneurs overcome their fear of failure and keep moving toward their goals and dreams. 
"I wrote this book because my purpose in life is to make a positive difference in the lives we touch," Herring said. "That is our family motto and our company mission statement. When I started writing the book I thought it was going to be a book for entrepreneurs, sharing with them my many failures and successes and most importantly my lessons learned at the end of each chapter."
Inspiring Readers, Giving Back
But the feedback she received revealed the book provides inspiration not just for entrepreneurs, but for anyone who faces fear on a regular basis, be it fear of reaching out to prospects, asking for business, negotiating big deals or even meeting with clients. It shows people how to use fear as a signal to evaluate and try alternative ways of acting and viewing the situation.
"No Fear Allowed teaches people how to turn their fear into their personal 'GPS' that allows them to stop, evaluate, calculate and then activate a plan to move forward," Herring said. 
A two-time breast cancer survivor, Herring is donating 100 percent of the profits from the sale of her book to breast cancer research. 
The Positive Impact of a Webster Education
Herring credits Webster for the positive impact the University has had on her career and life.
"Webster taught me from the beginning as a freshman to be creative and think out of the box," she said. "I loved the professors at Webster who encouraged us to trust ourselves and try new things, speak up and develop new personal boundaries."
As a study abroad student in Vienna, Herring fell in love with psychology and changed her major from Theater Arts to one in the social sciences. That, she said, led her to study with Webster psychology professors Carl Pitts and Ed Ernhardt and eventually become a psychologist.
However, Herring calls her theater arts training at Webster her greatest asset in growing her business. "It gave me the confidence when presenting in front of clients and large conference groups," she said. Through the years, Herring has remained involved with Webster's Leigh Gerdine College of Fine Arts, and served as chair of its Advisory Board. 
tags:  alumni, college of arts and sciences, college of fine arts, webster today, psychology,
News by Topic
Tag Categories
News by Topic
Tag Categories