Teaching Sustainability Through Global Awareness
Aug. 5, 2015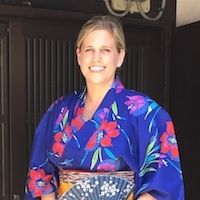 Teresa (Traci) Jansen, a 2012 graduate of Webster University's School of Education, was selected to participate in the Japan-U.S. Teacher Exchange Program for Education for Sustainable Development (ESD), hosted by Fulbright Japan. Jansen is one of only 14 teachers and administrators in the United States who were selected for the exchange, which aims to raise awareness of sustainability in education.
Jansen graduated in 2012 with an MA in Education and Innovation and a Certificate in Education for Global Sustainability. She also received her MA in Teaching in 2002.
"I have always been passionate about the environment," said Jansen. "The children and the families that I support through sustainability education are awakened to the environment that they live within, the culture of responsibility to one another and the earth and also the awareness to the impact that they have in creating a positive change for the future."

Jansen traveled to Japan for two weeks in June, spending time in Tokyo and Omuta City, where she was able to learn about Japanese culture, visit area schools focused on ESD, participate in a home stay and attend workshops with other educators. Teachers from Japan visited the United States in April. While there were many similarities between classrooms in the United States and Japan, Jansen was impressed by their use of outdoor space.
"Most green space is utilized for a purpose," said Jansen. "At the schools visited, every elementary school had a swimming pool, a vegetable garden and a weather station. Outside of the school setting, green spaces were either rice paddy fields, solar panel fields or vegetable gardens for local produce."
As a first grade teacher at Keysor Elementary School in the Kirkwood School District, Jansen will be able to implement what she has learned with her students. Educators from the exchange designed an array of global projects that will be implemented throughout the upcoming school year including topics such as recycling, biodiversity, local food, micro-gardens and conservation. 
 Jansen said that the global aspect of the exchange has been invaluable.
"When teaching children about sustainability, infusing global awareness is crucial," she said. "By helping children realize that we are a small part of the larger global community, we are sharing with children that they have the power to initiate change within their locale which can be extended and built upon for the larger community. This will lead them to realize that we have a joint responsibility in caring for this planet."
This exchange is just the beginning of Jansen's work in raising awareness of global sustainability. In the coming months, she will begin working with a local author to write a children's book to help children realize their role as global citizens.
tags:  alumni, global, school of education, sustainability, webster today,
News by Topic
Tag Categories
News by Topic
Tag Categories