Submit Nominations for Annual Alumni Awards
May. 18, 2016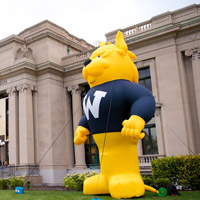 Each year the Webster University Alumni Association recognizes the outstanding professional accomplishments of alumni, their service to the University and their contributions to society through involvement in civic, cultural or charitable activities.
The Association is seeking nominations for the following annual awards:
Distinguished Alumni Award
This is the highest alumni award given. The Webster University Alumni Association annually recognizes an alumna or alumnus who has made specific, meritorious contributions to society through his or her profession and involvement in civic, cultural or charitable activities. This award recognizes high achievement that reflects credit upon the individual and Webster University.  

Loretto Award 
The Loretto Award is presented annually to an alumna or alumnus who has given significantly of herself or himself in service to humanity and social justice. The Award is intended to continue the recognition of the community service and social justice values of the Sisters of Loretto who founded Webster College in 1915.

Mary Elizabeth Newell Award
This award is presented to an alumna or alumnus who has demonstrated a high degree of loyalty, commitment and concern for Webster University over a span of many years.  

Young Alumni Award
This award recognizes an alum who promotes the values and elevates the profile of Webster University through leadership in his/her profession, contributions to society through public service, and ongoing support of the University. This person must be an alumna/us of Webster University who received his/her undergraduate degree within the last 10 years of being nominated and is 35 years of age or younger.
How to Nominate
Submit nominations through this online form by June 24, 2016. [Note: this deadline has been extended from its original May 31 deadline.]
The nomination should include a biographical sketch or profile of the person, together with the explanation and supporting materials why the nominee qualifies for this recognition.
tags:  alumni, employee news, faculty, home page, advancement, webster today,
News by Topic
Tag Categories
News by Topic
Tag Categories