'College to Career' Alumni Panel Share with Students
Apr. 18, 2016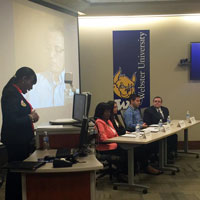 What does a special education teacher, study abroad advisor, mobility specialist, historic sites expert and academic advisor all have in common?
Each are Webster University alumni who graduated with degrees from the Department of History, Politics and International Relations.
The Career Planning & Development Center, along with the Department of History, Politics and International Relations, recently hosted the alumni panel discussion and networking event College to Career: Career Guidance from Professionals with Liberal Arts Degrees. 
Webster students filled the room to learn about the many career paths a liberal arts degree offers. Panelist included Sejla Bejtovic, Enterprise Holdings, Inc.; Justin Blandford, Illinois Historic Preservation; John Deavers, Special School District of Missouri; Webster's Nicholas Hall and Nancy Haparimwi.
The panelists discussed varied professional opportunities and how to leverage skills to employers. Panelist encouraged students to "follow your passion and create the career you want." Deavers, who teaches political science in the Special School District, shared his career journey from law school to education: "Your degree is the area you know most about, and you can apply that to a career you will enjoy." 
Blandford emphasized the importance of faculty and staff relationships and networking. He attributes his success to the mentors he met while a student at Webster and remain connected to in his professional career. Students asked engaging questions to the panelists and left with a broader perspective for gaining marketable skills through work and co-curricular activities.
tags:  alumni, college of arts and sciences, webster today, career planning and development center, department of history politics and international relations,
News by Topic
Tag Categories
News by Topic
Tag Categories