Webster Alumnus Performed on Grammy-Winning Album 'Go Go Juice'
Feb. 23, 2016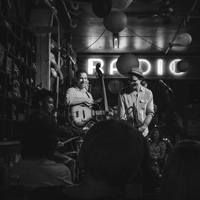 NEW ORLEANS – After Charlie Halloran graduated with a degree in music from Webster University's Leigh Gerdine College of Fine Arts in 2006 and a master's degree from Eastman School of Music in 2008, he moved to New Orleans to follow his passion of jazz.
At first, he picked up any gig he could, and through that met many local musicians. One connection led to another, and about two years ago, Halloran was asked to play trombone on the album "Go Go Juice," which was being recorded by pianist (and one of Halloran's neighbors) Jon Cleary.
"I did the recording and then sort of forgot about it," Halloran said. That is until last week. The album won a Grammy, shining the spotlight on all of the musicians who contributed to the work of art.
"Go Go Juice" was named the best regional roots album of 2016. The "regional roots music" category was created after several other Grammy categories for ethnic music — including Cajun and zydeco award — were all combined into the one category. "Go Go Juice," which focuses on New Orleans-style rhythm & blues & funk competed against the southwest Louisiana band the Revelers, two Hawaiian acts and an all-female Native American drum troupe.
"Yes, I'm on a Grammy-winning album. And there you go," Halloran said via phone a few days after he won. "It's Jon's album, so he gets the Grammy, but I have a friend who has a 3-D printer, so I just might print out my own Grammy."
Halloran is eligible to receive a certificate from the Recording Academy – the organization that issues Grammys - that confirms that he contributed to a body of work that was nominated and/or won a Grammy award.
"We always knew that Charlie was headed for great things. He was passionate about all things 'trombone' and 'New Orleans,'" music professor Jim Martin said. "Even when he was a student, people were impressed with his work."
The route from Webster University to a Grammy-winning album was "freaky," Halloran said. "I grew up listening to the music of New Orleans and started visiting the city regularly to play and listen to music there since 2003," he said. "After graduating from Webster University, Professor Martin ushered me into graduate school (the Eastman School of Music in New York). I graduated from that in 2008 and immediately moved to New Orleans."
He spent the next few years playing whenever he could. Pretty soon, he found that he was renting an apartment from the saxophone player for legendary pianist Dr. John and for upcoming rhythm &blues group St. Paul and the Broken Bones. His landlord also happened to be the neighbor of Allen Toussaint's daughter (Toussaint was a well-known jazz composer and producer who passed away last year). "And that's how connections are made," he said. "I played with a lot of different groups and met a large number of musicians, from people my age to seasoned professionals."
Those connections would earn him an invitation to work on "Go Go Juice" with Toussaint and Cleary. After recording, Halloran continued playing. In 2013, Halloran was named a "rising star" by Downbeat Magazine. In 2014, Offbeat Magazine nominated him for best trombonist of the year. This year, Halloran said he released his own solo album "Charlie Halloran and the Quality 6."
Halloran performs regularly with Meschiya Lake and the Little Big Horns, the Palmetto Bug Stompers, the Panorama Jazz Band and the Shotgun Jazz Band. Most recently, he has been playing with the revival jazz band "The Squirrel Nut Zippers" and is preparing to go on tour with them to celebrate the 20th anniversary of their hit album "Hot." In addition, he has been booked for the French Quarter Fest and is hoping to play in St. Louis soon.
And that leads to his advice to other musicians – just basically do what he did.
"Just follow your passion. Play the music that makes you happy, but also learn everything that you can about that music and learn how to play as many songs as you can. Always be on your game and always be playing your instrument. Be an employed side man, and learn every other band's repertoire so you're ready when they need a sub.
"This seems simple, but listen to the music you're trying to play constantly," he added. "It's amazing how quickly you start missing the stylistic details of the music if you're not submerged in the sound. It's very easy to get distracted and thus sound distracted."
To learn more about Halloran, visit www.charliehalloran.com, or follow him on Instagram at @charlie_biggs.
tags:  alumni, college of fine arts, featured, home page, department of music, webster today,
News by Topic
Tag Categories
News by Topic
Tag Categories