Snapshots: McConnell AFB sponsors Wichita Thunder Go Red for Women Night
Feb. 9, 2016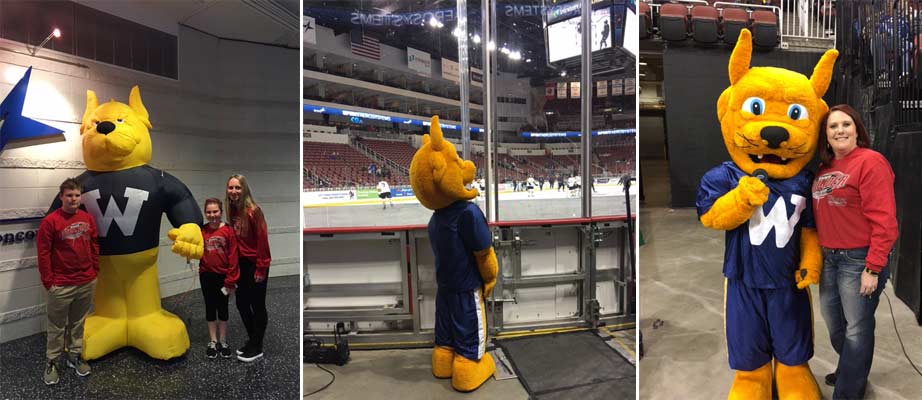 Webster University's McConnell Air Force Base campus location in Wichita, Kansas, sponsored the Wichita Thunder's "Go Red for Women" night in partnership with the American Heart Association (AHA) on Feb. 5.
Katie Ervin, Midwest Regional director along with the Gorlok dropped the first puck to the crowd of 10,000. Staff, faculty, family and friends of Webster University also attended the game to cheer on the Thunder against the Colorado Eagles.
The month of February celebrates Women's Health Awareness. AHA created the "Go Red for Women," social initiative to dispel the myths and raise awareness of heart disease and stroke as the number one killer of women. The initiative is designed to empower women to take charge of their heart health.
Webster and Military Education
Webster University opened its first military campus location in 1974, and since then has provided unmatched educational programs to U.S. military personnel on the installations where they work and live for more than 40 years.
Webster has quickly and consistently established itself as a leader in military education—recognized as a "military-friendly" and "vet-friendly" educational institution. Also a VA Yellow Ribbon participant, Webster has assisted military students in making their educational dreams come true.
The University's distinguished record of top tier rankings in U.S. News and World Report, GI Jobs, Advanced Military Education, charter member status in both the Service Opportunity College (SOC) and the DoD MOU shows why Webster University is an institution that delivers high quality and fully accredited educational programs.
Learn more at Webster's Office of Military Affairs.
tags:  alumni, extended campus, webster life, webster today, mcconnell afb, military, ,
News by Topic
Tag Categories
News by Topic
Tag Categories