Alumni Spotlight: From Study Abroad to Moving the Family to Turkey
Mar. 10, 2016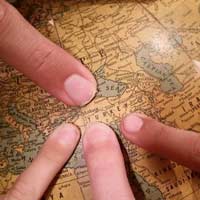 Webster University alumnus Paul Stanley (BA '02, MA '06), credits his study abroad experience as an undergraduate for spurring his family's eventual move to Ankara, Turkey, last year. Stanley and his wife, Elizabeth (Ireland) Stanley, also a Webster alumna (BA '02, MA '08), both love traveling and experiencing new places and cultures.
The couple also felt it was important to make sure their children were exposed to the larger world around them. Several years ago, they began talking about teaching overseas as a way to travel the world with their children since it would allow them to sidestep the high cost of traveling as tourists.   
And so, Paul and Elizabeth, along with their two school-age daughters, took the plunge. The couple accepted teaching positions at the Bilkent Laboratory and International School in Ankara, with Paul teaching high school economics and Elizabeth, elementary art.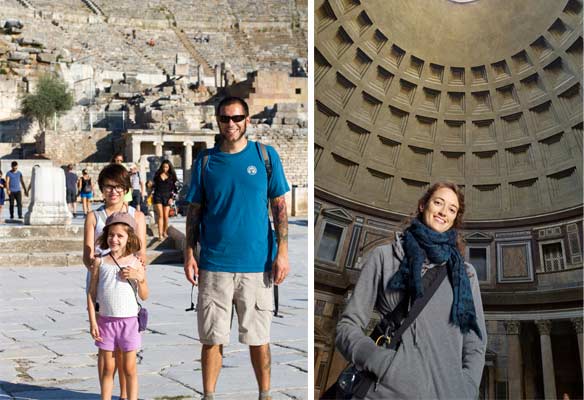 "My experience in college showed me how amazing travel can be and it made me more curious about exploring other parts of the world. Long story short, studying abroad all those years ago was probably the first step that Elizabeth and I took on the path to teaching overseas," said Paul, who studied abroad in London with Webster.
Since last July, prior to their move, Paul has documented his family's experiences in his blog, StanFamAbroad (stanfamabroad.wordpress.com/). He also offers these tips for anyone interested in moving and working abroad:  
1. Stop dreaming and go for it: "I don't mean to imply that one should move overseas on a whim or without serious thought. However, I think a lot of people who have a goal of exploring the world spend so much time agonizing about whether or not it would be the right decision they eventually talk themselves out of it.  There came a time for us when we simply had to push our fears aside and make the leap. We sold almost everything and hired a search firm that helps place teachers in international schools. In less than a year my wife and I were both hired and on our way to Turkey with our two girls."  
2. Have realistic expectations: "It's easy for Americans to romanticize moving overseas with the proliferation of blogs, websites, and Instagram pages all dedicated to the topic of traveling. We get to see the wonderful parts of traveling every time we are on our computers or check our phones. And those moments do exist, but when you choose to move overseas it is a good thing to temper your expectations of what your life will be like. Most of your time you will not be going to the beach or hiking through beautiful scenery. You will still have all the major stresses of living at home like work, bills, caring for your kids and family, but now you have to add adjusting to a new culture to the list. In addition, you do not have the network of friends and family to support you like you do back home. If you cannot adjust to this type of stress than you are better off just vacationing abroad and not moving abroad."
3. Take the time to learn as much as you can about your new home: "I think it is really important to know about the culture you are planning on walking into before you arrive. What is the political climate of your new home? What about the security situation? Are the things that you must have to survive available where you are going (for example, we have friends who have a child with Type 1 Diabetes who are moving back to the states because obtaining and maintaining an insulin pump is not practical in Turkey). What is the difference in the level of development between the United States and where you are hoping to go and can you handle a noticeable decrease in that level? All of these are things people should think about when planning to move to a different country. Knowing the culture and language will also help you a great deal in your interactions with locals and your new neighbors and colleagues. I have found that knowing about Turkey and speaking a very minimal amount of the language has paid off in countless circumstances both professionally and in casual interactions since we arrived here last year." 
4. Pack Light: "I think most Americans are obsessed with stuff. Our culture is one in which the amount of stuff you have is demonstrative of your success in life. Moving overseas was a bit of a cleansing experience for us as a family. We pared our lives down to 16 duffle bags and a small storage container in Missouri. We sold almost all of our things. For the first time since we were teenagers, my wife and I do not own cars. For me, minimizing our stuff has been one of the best parts about this decision." 
5. Go with the flow: Uprooting your life and moving to a different country is really stressful. The efficiency and convenience of life in the United States is not readily available in most of the world. My wife and I are admitted control freaks and getting used to living abroad is still something we are working hard to adjust to. Training ourselves to not stress about all the things we experience that we cannot control is an ongoing process. But anyone who wants to move overseas needs to know that very little you experience can be carefully planned and any plans you do develop will likely not turn out 100 percent the way you envisioned. While this can be frustrating I also think it is one of the reasons we have learned so much doing this. 
The most significant impact of the family's move for Paul and Elizabeth's daughters has been the new and challenging experiences they face on a regular basis. "In the States, on teachers' salaries, we simply could not afford to take them places that challenged them," Paul said. "They were so used to everything being very homogeneous. Here, not only do they attend a school in which they are not in the majority culture and where they meet children from diverse backgrounds, we can hop between countries so easily that they have experienced more diversity in a few months than many Americans do in a lifetime." 
tags:  alumni, global, webster today, home page, school of education, london, study abroad,
News by Topic
Tag Categories
News by Topic
Tag Categories