Today is Give STL Day!
May. 11, 2017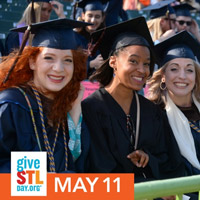 One Day. One Community. Give STL Day, powered by the St. Louis Community Foundation, is bringing the St. Louis community together to support and enhance local nonprofits.
Show your support for Webster University and the St. Louis community by supporting a nonprofit most meaningful to you, like our University. You can make your gift now to benefit the students we serve and to celebrate the more than 6,000 new alumni we will have after commencement this weekend!
Use #GiveSTLDay and #WeAreAllWebster on your social media posts to promote the day. Remember, the St. Louis Community Foundation will be awarding Cardinals tickets to donors throughout the day!
Contact the Office of Advancement at 314-968-7161 or annualfund@webster.edu with any questions.
Organizations in the Local Community
Did you know? Webster University is one of nearly 900 nonprofits in the St. Louis region participating in this year's Give STL Day, including 33 nonprofits in the Rock Hill and Webster Groves community, where Webster University was founded in 1915.
Among the participating nonprofits and campaigns based in Webster Groves/Rock Hill:
Nonprofits:
Big Bend Railroad Club, Inc.
Canterbury Enterprises, Inc.
Cardinal Ritter Senior Services
Center for Hearing & Speech
Changing Lives Today Mission Home
DEAF, Inc.
Diversity Awareness Partnership
Eden Theological Seminary
Epworth Children and Family Services
Field Projects International
Gifted Resource Council
Great Circle
Interfaith Partnership of Greater St. Louis
Joni and Friends Greater St. Louis

KWRH-LP Radio 63119

Kenrick-Glennon Seminary
Leverage Dance Theater
Miriam: The Learning Disability Experts
Missouri Health Care for All
Nurses for Newborns
Ollie Hinkle Heart Foundation
One Classroom
Opera Theatre of St. Louis
Rung, Ltd.
Scott Harris Oliphant Foundation
Stray Haven Rescue
The Family Center
Repertory Theatre of St. Louis
Today and Tomorrow Educational Foundation
We Stories
Webster Arts
Webster Child Care Center
Webster University
Campaigns:
Work Choice
Charlie's Canterbury Campaign
Helping Homeless and Hungry Teens
tags:  alumni, employee news, advancement, community engagement, partnerships, webster today,
News by Topic
Tag Categories
News by Topic
Tag Categories