Informal Commencement Celebrates Non-Traditional Path
Sep. 14, 2017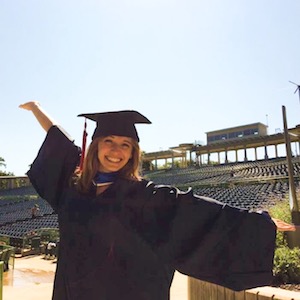 (ST. LOUIS) - Webster University's Commencement ceremony happens every year in May. For the past decade, it has been held at The Muny theatre in Forest Park, where graduates gather to hear the commencement address and receive their degrees in front of a crowd of family and friends.

But Jenni Taylor, who graduated in 2011 with a degree in Educational Studies, never had that main ceremony experience – until now. This past summer, a small group of supporters made sure she got to cross the Muny stage in a cap and gown.
"The summer after three years at Webster, I was given the opportunity to teach in Iquitos, Peru, as an ESL teacher," said Taylor. "My heart told me that this was the opportunity of a lifetime and was sending me on the path I had been waiting for. Needless to say, I chose to go to Peru. I finished my courses online using dialup internet in Iquitos, a small city in the jungle of Peru and located at the mouth of the Amazon river. I remained in Iquitos for just under two years, living the adventure of a lifetime but also missing my graduation."
This non-traditional final year of study at Webster University was helped by a few faculty members Taylor met her first weeks at Webster.
"I was part of the Pathways Learning Community my first year at Webster as a Freshman and Kim Kleinman, Bruce Umbaugh and Larry Baden were the incredible leaders of that learning community. I have so many stories about all three of them- and their patience with me as I was always constantly changing my major because I knew I didn't want to teach in Missouri. We created a routine of having lunch together once a week with a few other students. These three are an incredible support system to any student that crosses their path. Vicky McMullen, Larry, Kim and Bruce were instrumental in their support of my decision and helping me to graduate while abroad."
Baden, associate professor in the Communications & Journalism Department, remembers that Taylor wasn't initially excited to be a part of the learning community.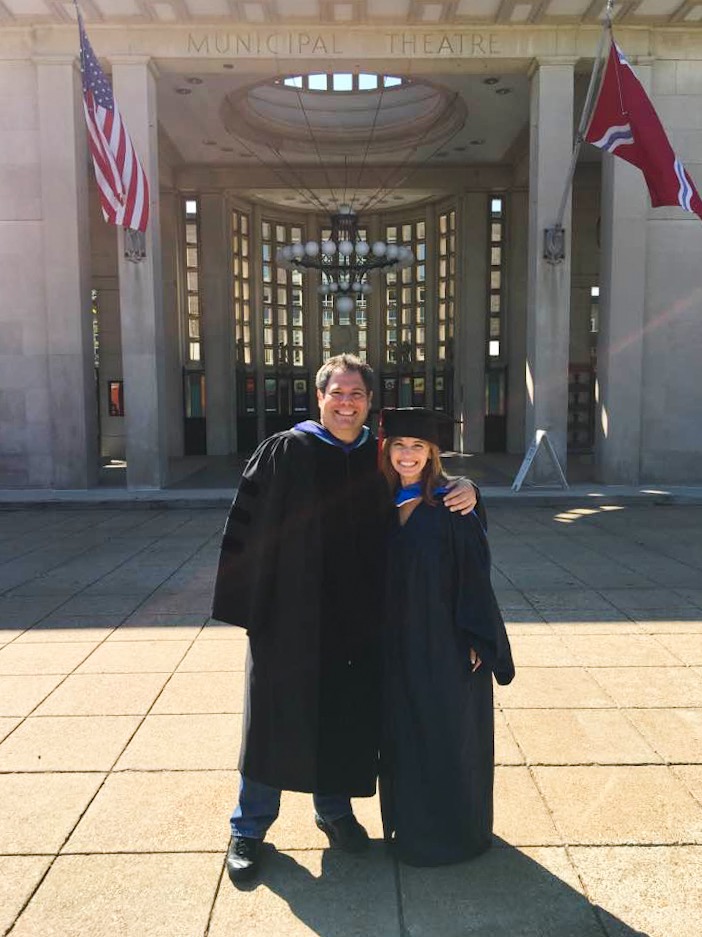 "She was not thrilled about being in a learning community, not happy at all that her mom signed her up for it," said Baden. "She was a year older than the other students, having spent a year living abroad after graduating from high school. But she and I hit it off immediately and I think she would tell you it turned out to be one of the important events in her life."
Taylor agreed with Baden's memories. "I wasn't thrilled-it sounded like a group for students who didn't know what they were doing. However, on my first day at Webster we had a Pathways meet and greet. Larry Baden made a beeline for me, shook my hand, and asked me about my travels. Within moments, he made me feel important, listened to, and as if I was in safe hands. Pathways turned out the be one of my biggest highlights at Webster. It was through Pathways I was paired with my roommate, Emily Bahr, who became my best friend in college. Because of Pathways, I was paired with Kim Kleinman as my advisor, who always had the patience and time to meet with me as I was figuring out my path. Pathways also put me in Bruce Umbaugh's philosophy class, which challenged me but also gained me another friend in Bruce."

"Jenni is and was a restless spirit," said Kleinman, director of Undergraduate Advising at Webster University. "She tried on numerous programs that would get at what she wanted and needed to know. We always knew she was going to get it done, that she was going to graduate. She wasn't flighty or unserious, quite the contrary.  But she wasn't going to sacrifice her education for her schooling, to paraphrase the apocryphal Mark Twain quote."
The relationships made that first year at Webster University have remained with Taylor through the years.
"Since leaving Webster and going to Peru and China, I try to come back to St. Louis at least once a year – to see friends, yes, but the trip would be incomplete without meeting up with these three and Emily for a meal and catching up," said Taylor. "All three professors have checked in with me during my travels. Once, I had put up a Facebook status about things being really rough, and Bruce made an international phone call specifically just to check on me and make sure I was okay. They have been professors, mentors, but also friends and dare I use the word family. Larry Baden actually picked me up from the train station when I arrived from Chicago this year without a ride."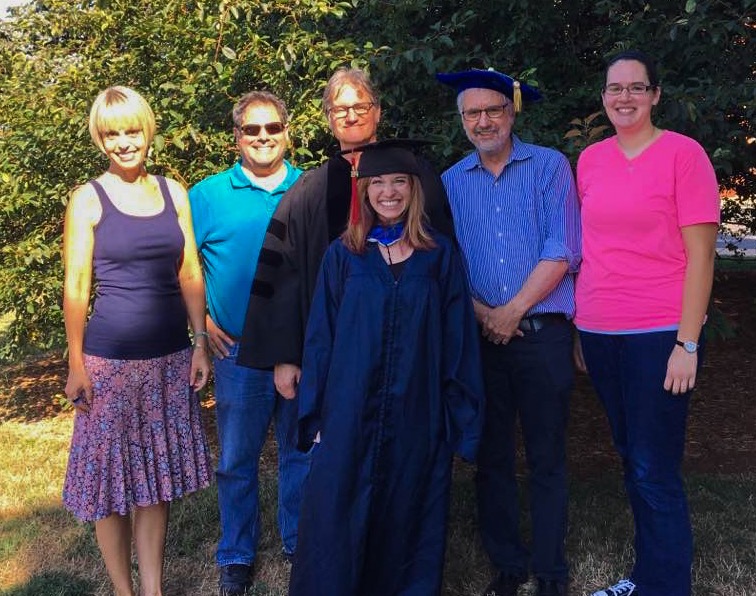 It was during one of those annual trips to St. Louis that an idea for an unofficial graduation ceremony began to take shape. 
"This was my idea and it was absolutely a selfish act on my part," said Baden. "My office walls are covered with pictures of my former students at graduation. And as Jenni is one of my favorite students ever, it has always bothered me to not see her graduation picture on my wall. So, I came up with the idea a long time ago to stage graduation shots at the Muny when she came into town. I always have graduation gowns in my office because I have them for students who can't afford them and who otherwise wouldn't walk at commencement each year. I always planned to include Kim, Bruce and Emily since they were such a big part of Jenni's Webster experience." 
So, in August of 2017, the unofficial commencement took place. 
"Larry, Bruce, Kim, my old roommate and Emily and I met for breakfast in Webster Groves and we caught up, then put on the cap and gowns to take pictures," said Taylor. "I couldn't stop smiling. People walking around Webster Groves were looking at us with a lot of curiosity and smiling. We even ran into a member of the Educational Department staff who agreed to be in one of our pictures. After Webster Groves, we drove over to the Muny and took several fun pictures. A few people were cleaning for the upcoming show, so I was even able to get up on the stage for a few minutes – which was very cool! The whole process wasn't long, but I couldn't stop smiling the whole time. I feel like these pictures give me something to be proud of and with my favorite people who supported me through everything." 
While the three worked with Larry to make this happen, a few moments of good luck helped make the day even more successful. 
"Stephanie Mahfood was having a Starbucks meeting as we left our breakfast gathering," said Kleinman. "She's in one picture and took others on the basis of Jenni's degree in Education Studies." 
Being able to make it onto the Muny stage was also unexpected. 
"Turns out they don't lock the gates so we just strolled right in," said Baden. 
"Academic robes are pretty non-threatening," said Kleinman. 
While the event was held to celebrate Taylor's accomplishments, the event meant a lot for those who made it happen. 
"My favorite part of this was the delight Jenni got out of it," said Kleinman. "She was 22 again. The pomp and circumstance mattered to her.  But we did it in our own way, kind of like her education." 
"I knew it would mean something to Jenni," said Baden. "Of course, she knows how much she means to me, but I thought this would be a nice reminder of how special she is. This is a young woman who spent two years teaching children in the poorest area of Peru and four years impacting young people in China. Next, she's off to set up schools for children in Cambodia. We're talking about a young woman who represents everything we'd want a Webster graduate to be. The least I could do was give her some pictures from her Webster 'commencement.'" 
Taylor is grateful for the fun experience and the chance to get photos but the experience was more than just a chance for photos. 
"I am so thankful for them, the impact they have had on my life, and the reassurance that today or ten years or twenty years from now, I know I can call them for advice or for a hug," said Taylor. "Taking my graduation pictures (finally!! and unexpectedly!) with the most influential people from my college career was truly a special moment." 
tags:  alumni, college of arts and sciences, home page, school of communications, school of education, webster life, webster today,
News by Topic
Tag Categories
News by Topic
Tag Categories