Webster Leiden Spotlight: Alumni Sonia Sin, co-owner Studio Schrofer
Apr. 6, 2017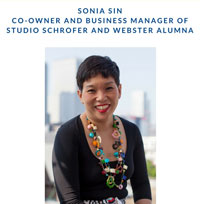 As chief cheerleader of award winning furniture design firm Studio Schrofer, Sonia Sin doesn't have "normal" days at the office. She champions good designs as enthusiastically as she does her political protesting, environmental activism and various philanthropies. Studio Schrofer has been recognized by the city of The Hague as one of its Creative Ambassadors. Sonia and her partner Frans Schrofer have decided to promote creativity as a tool for maintaining peace. "Get of out of your mental ghetto," is her living credo. This mindset of hers is probably due to the fact that she creates and achieves so much.
Sonia Sin's Background

Sonia Sin was born in Chicago to Chinese immigrant parents. She loved watching "Americans" do things. The gap between East-West cultures and mores led Sin to study history, culture, art, and later, fashion.  She received a Bachelor's degree in Art History with a minor in Fashion Merchandising.
"To this day, I'm fascinated by how art and fashion interpret, react to and reflect the needs of the time. All the great artists were rebels and I am, too," says Sin.
Sin moved to the Netherlands in the mid-80's and worked at the Mexx international headquarters. As assistant manager of a young, casual fashion brand, she cycled through various behind-the-scenes departments of retail and production. Becoming obsessed with the "segmentation" jargon used in the newly established marketing department and Sin wanted to learn more. Mexx sponsored her Marketing MA at Webster University. Then Mexx decided to introduce the brand in Egypt in 1991 and India in 1993, and Sin was selected by top management to spearhead these projects.
Webster University's Impact


Both Egyptian and Indian cultures were her favorites as an art history student, and as a textile admirer she respected the centuries-old traditions behind making Egyptian cottons and Indian silks. Every aspect of the Mexx brand had to be locally made: the retail architecture, production, marketing and merchandising. Case studies at Webster University helped Sin understand the P's for success or failure, and art history lessons prepared her emotionally for the forthcoming resistance. Sin's colleagues – Christian Syrians, Muslim Egyptians, Muslim Indians, Hindus, Zoroastrians, Sikhs, Buddhists and Jains - sensitized her to their various local cultures, religious practices as well as the environmental and political climates. All these factors affected local fashion statements and choices. Ideas about what was "acceptable" and "decent" restricted Mexx's choices in colors, skirt lengths, transparency and skin exposure. This was 1991-1996, when exposure to almost anything Western was radical and possibly controversial.
Read more about Sonia Sin on Webster University Leiden's website.
tags:  alumni, global, leiden, school of business and technology, webster life, webster today,
News by Topic
Tag Categories
News by Topic
Tag Categories