Lauren Honz (BME '16) Named Conductor for St. Louis Children's Choirs
Jul. 24, 2017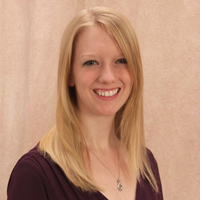 Lauren Honz (BME '16) has been named conductor of one of the St. Louis Children's Choirs.
The St. Louis Children's Choirs includes about 450 talented young singers (ages 6 to 18) from more than 200 schools and 85 zip codes in Missouri and Illinois who bring their artistry and love of classical, sacred, contemporary, and world music to the concert stage for everyone to enjoy.
Under the leadership of artistic director Barbara Berner, an outstanding music faculty trains young singers through a challenging and diverse curriculum with six ensemble levels that match the children's musical abilities. The St. Louis Children's Choirs offers young artists world-class performance opportunities and a choral music experience that emphasizes musical excellence and character education.
"Lauren teaches elementary music at Seckman Elementary School in the Fox School District and is a graduate of the Children's Choirs," Berner said. "She grew up in the Choirs singing for 12 years in the program and was a member of Concert Choir for seven years. As an undergraduate student she served as an ensemble assistant for four years – for a total of 16 years with the Choirs! Lauren is also a graduate of the Artist in Training program at Opera Theatre of St. Louis, where she was a Monsanto Scholarship award winner."
"I am incredibly honored to be a director of the St. Louis Children's Choirs," Honz said. "My musical journey began in this organization, and I cannot think of a better way to further grow as a music educator and positively influence young lives through song. I am so grateful for my professors at Webster University, who continue to give me support and guidance still today." 
Webster Scholarship Winner, OTSL Intern
Honz holds the Bachelor of Music Education from Webster University, where she received the prestigious Peggy Fossett Endowed Music Scholarship and the Jean Sinor Memorial Scholarship. In 2015 she was selected to receive the highly competitive Tresa Jo Wilson Memorial Scholarship, awarded by the Missouri Choral Directors Association to one music education undergraduate each year in the state of Missouri. Honz served as the Education and Community Engagement intern for Opera Theatre of St. Louis for two summers. She directs the children's choir at Emmanuel Episcopal Church in Webster Groves.
"We are incredibly gratified that a Webster music education alumna will be leading choristers for one of the region's best-loved musical organizations," said Trent Patterson, director of Choral Studies at Webster University. "The St. Louis Children's Choirs have long been recognized as one of our city's finest providers of training for young singers, and Lauren's appointment as an ensemble director is remarkable, especially considering that she just completed her first year of full-time teaching at Seckman Elementary School."
Jeffrey Carter, chair of the Department of Music in Webster University's Leigh Gerdine College of Fine Arts, notes: "Lauren is a real success story! She is a product of or a former employee of several venerated Saint Louis institutions, including the Monsanto Artist-in-Training Program, the Children's Choirs, and Opera Theatre. With this pedigree and the outstanding musical education at Webster, she is poised to make a big mark on music in this region."
About Music Education at Webster University
The music education program prepares students for careers as innovative music teachers in K-12 schools.
Webster-educated music teachers are prepared both to continue strong traditions in American music education and to respond to the ever-evolving demands of musicianship and teaching/learning in the 21st century. Students pursue one of two degree tracks—either vocal/general or instrumental/general— and graduate with a Bachelor of Music Education degree and Missouri state licensure.
Music education majors sharpen their own musicianship through core coursework in music theory, music history, musicianship, and private lessons. Students also study core principles of educational theory and practice through coursework in Webster's School of Education.
The music education curriculum prepares students to be intellectually curious, socially conscious, musically versatile educators in a variety of classroom settings.
tags:  academics, alumni, college of fine arts, school of education, department of music, home page, webster today,
News by Topic
Tag Categories
News by Topic
Tag Categories