Two Alumni Inducted into SLIAC Sports Hall of Fame
Feb. 22, 2017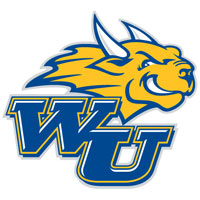 Two Webster alumni have been inducted into the St Louis Intercollegiate Athletic Conference (SLIAC) Hall of Fame, it was announced earlier this month. They will be inducted during the SLIAC Awards Banquet on May 16.
Crystal Spinner and Katy Meyer will join 50 previously inducted members in the Hall of Fame, including 39 student-athletes. Spinner was a member of the Webster volleyball team from 2004 – 2007 and Meyer was a member of the basketball team from 2007 – 2011.
"This is quite an honor for these athletes as well as a testament to the quality of the athletic programs at Webster University," said Scott Kilgallon, Webster's athletic director. "Our student-athletes devote significant time and energy into pursuing their interest in sports, and it's great when they are recognized for their efforts and achievements."
Spinner: Record-Holding Volleyball Gorlok
According to a letter from SLIAC, Spinner was recognized for 1,785 kills, 1,649 digs and 450 careers sets she performed during her time on the time, as well as the single season kill record of 526. All three records are "first all-time" records. She also completed 155 career aces, a "second all-time" record.
She was honored as the SLIAC player of the year in 2005 and SLIAC newcomer of the year in 2004, and earned MVP honors in 2006 and 2007. She also was named to the SLIAC First Team for all four years of her college athletic career.
With Spinner leading their attack, the Gorloks won two SLIAC regular season titles and two SLIAC Tournament titles, finishing with a 48-5 conference record. Spinner graduated in 2007with a bachelor's degree in business administration.
Meyer: All-Conference Basketball Gorlok
Meyer was being recognized for scoring 1,194 points during her time on the basketball team, a "third all-time" record. She also was selected for the SLIAC All-Conference for all four years and was selected for the First Team All-Conference and the SLIAC Tournament MVP in 2011.
In addition, she twice was selected for the Jewish Sports Review All American Trophy and was a finalist for the 2011 Josten's Trophy, one of only three finalists for the award in SLIAC history. The Josten's Trophy is presented to the best male and female NCAA Division III basketball player of the year by the Salem Rotary Club in conjunction with the division III championships.
Meyer still ranks first in program history in three-pointers, first in three-point percentage, fourth in rebounds, and sixth in scoring average. During her time at Webster she helped the program increase their win total each year, culminating with 17 wins as a senior and leading her team to just its third NCAA Tournament appearance in program history.
In the classroom, Meyer earned SLIAC All-Academic honors three times and graduated in 2011 with a degree in Political Science and Spanish. Meyer also spent time volunteering at a local shelter for battered women and worked at the International Institute, assisting refugees. Since 2014, Meyer has been teaching in Italy and continuing her basketball career, currently playing for a semi-professional team in Italy.
About SLIAC
SLIAC is composed of 10 private institutions in Kentucky, Illinois, Iowa and Missouri. Members are: Blackburn College, Carlinville, Ill.; Eureka College, Eureka, Ill.; Fontbonne University, St. Louis, Mo.; Greenville College, Greenville, Ill.; Iowa Wesleyan University, Mount Pleasant, Iowa; MacMurray College, Jacksonville, Ill.; Principia College, Elsah, Ill.; Spalding University, Louisville, Ky.; Westminster College, Fulton, Mo; and Webster.
tags:  alumni, college of arts and sciences, home page, athletics, volleyball, basketball, school of business and technology, webster today,
News by Topic
Tag Categories
News by Topic
Tag Categories